Adrian Beltre says Eric Gagne should have named names
Eric Gagne said that 80 percent of his teammates on the Dodgers last decade were using PEDs, but didn't give any specific names. Adrian Beltre was a teammate, and he says Gagne should have named names.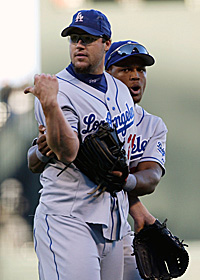 Beltre holding back Gagne from a fight when they were teammates. (Getty Images)
Wednesday morning, my colleague C. Trent Rosecrans made a very salient point about former pitcher Eric Gagne's charge that "80 percent" of his Dodgers teammates last decade were using PEDs. And here it is, just in case you missed it:
"Gagne, though, didn't name names and by doing so, tarnished the names of 100 percent of his teammates from his Dodgers days."
One of those former teammates is current Rangers third baseman Adrian Beltre, and he had a similar point of view.
"He should have mentioned names," Beltre said (ESPN Dallas). "I know for sure I'm not one of them. I haven't read the book. I'm not interested in it. He should have come up with names instead of a percentage."
And that's the point. If you are desperate enough to thrust yourself back into the spotlight with a claim that 4/5 of your former teammates were doing something the general public frowns upon, be man enough to go all the way.
If the pushback to that last sentence would be something like "well, he didn't snitch out his teammates," I'd like to again go back to what Trent wrote less than 24 hours ago. By saying the overwhelming majority of his teammates were using, Gagne has now cast the shadow of doubt on every single guy he ever played with in Los Angeles. Not only is that unfair, it looks like a desperate and cowardly attempt to gain attention.
For more baseball news, rumors and analysis, follow @EyeOnBaseball on Twitter, subscribe to the RSS feed and "like" us on Facebook.
Show Comments
Hide Comments