Ailing Yanks have reached out to Morales; they need to secure him
For many reasons, Kendrys Morales makes sense for the Yankees.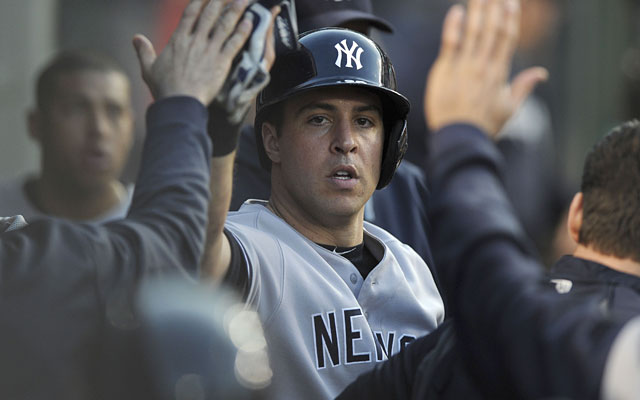 More MLB: Power Rankings | Expert Picks | Latest news & notes | Fantasy news
While the Yankees are believed to have reached out to free-agent 1B/DH Kendrys Morales, they also are thought to be awaiting the results of Mark Teixeira's medical re-evaluation before making a big play for Morales, who's expected to sign shortly after the MLB Draft begins Thursday.
It's only prudent to first see what's happening with Teixeira even though Teixeira himself said a couple days ago he's "back to square one" with his inflamed right wrist, a bad sign indeed. Anyway, it's only a one-day wait before the doctor sees Teixeira, and Morales won't be signing with anyone until after the draft since the draft-pick compensation is removed as of draft day.
But regardless of what the Yankees hear Tuesday about their ailing first baseman, they should make a play for Morales, who also may draw interest from at least the Brewers, Mariners and Rangers.
Teixeira has hit well this year, maybe his best start in years for the perennial slow starter, but realistically, there has to be medical concern over a player who missed virtually all of last season after a swing on a tee in the WBC warmups. And now the recurrence.
If Teixeira is out awhile, the Yankees don't have suitable first-base replacements, which led to free-agent catcher Brian McCann getting his first career start at first base recently. That's something you want to avoid, if at all possible.
While some other teams view Morales as more of a DH type, the Yankees, it is said, have a decent report of Morales as a first baseman.
Beyond the worry over Teixeira, there should be almost as much concern about Carlos Beltran, who has had two straight positive days hitting tossed balls after saying he felt intense pain in his right elbow and ruminating about whether he would need it to be surgically repaired.
With all this in mind, Yankees people were said to be debating through the weekend whether to make a serious play for Morales. But it should be obvious they should try to add him to their roster, and here are some more reasons:
1. The Yankees' offense, with Teixiera outperforming his usual humdrum April and May and Beltran playing most of the games, has been below average. Despite playing in a bandbox of a ballpark, the Yankees are ninth in the AL with a .709 OPS and tied for 10th with 230 runs.
2. The Yankees already poured $453 million into four players this winter with the intent to win. What's another $10 million or so? It's possible Morales could do better elsewhere, but there's a pretty good chance at this point Morales might just like to re-establish his value as a full free agent after the year and hit the market as an honest-to-goodness full-fledged free agent. From the Yankees' perspective, why waste $453 million to save another $10 million?
3. Last summer they hesitated similarly for Alfonso Soriano, and he turned out to be among their most productive second-half players, if not their most productive player. His 17 home runs were good enough for second on the 2013 Yankees, even though he played only 58 games for them. In this case, they wouldn't have to give up a prospect, which was part of their hesitation with Soriano (they ultimately sent the Cubs minor-league right-hander Corey Black).
4. Morales is a beast in the AL East. Over the past two seasons against AL East teams he has seven homers, 12 doubles, a .356 batting average and .919 batting average. (And that's with home games at the more pitcher-friendly Angels Stadium and Safeco Field, compared to Yankee Stadium, where he should thrive.)
Ultimately, if Morales believes Teixeira and Beltran will be back, he might choose to play elsewhere since he'll have little more than half a year to re-establish his value. But the Yankees shouldn't worry about that; they need him to beef up an underperforming and ailing offense.