A.J. Burnett decides to pitch in 2014
After having remained undecided throughout the offseason whether or not to retire, A.J. Burnett has decided to pitch in 2014. He's previously said either Pirates or retirement would be his decision.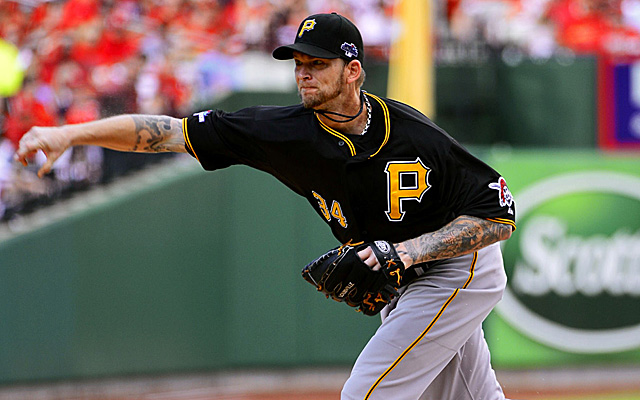 MORE: FA tracker: position players | FA tracker: pitchers
Free agent starting pitcher A.J. Burnett has decided to pitch in 2014, reports Jon Heyman of CBSSports.com. This came after months of Burnett having not made a final decision. Also of note, remember last spring that Burnett said after his final season of his last contract he'd either choose to return to the Pirates or retire.
So it's all Pirates here, then, right?
Maybe not. The Pirates are interested in bringing Burnett back, yes, but the Orioles have also shown interest, too, per Heyman. Part of Burnett earlier saying it was either Pirates or retirement is that he didn't want a drastic change for his family, but he resides close to Baltimore -- Monkton, Maryland -- so the Orioles actually have a shot here.
Not only that, but Pirates beat writer Travis Sawhick reports that Burnett is now open to pitching for a club other than the Pirates.
We also know the Mariners and Blue Jays are looking for starting pitching, so the Pirates might have to pony up a bit here if they hope to keep their man.
Burnett, 37, was 10-11 with a 3.30 ERA (107 ERA+), 1.22 WHIP and 209 strikeouts in 191 innings pitched. He led the NL with 9.8 strikeouts per nine innings (among qualifiers). He's had a productive two seasons after escaping New York to join the Pirates, so it's worth wondering if a return to the AL East would really be attractive to a man so close to retirement.
Show Comments
Hide Comments