Al Alburquerque ambushes Red Sox with fastballs in Game 1
Tigers reliever Al Alburquerque snuck up on the Red Sox by using his fastball in big spots in Game 1.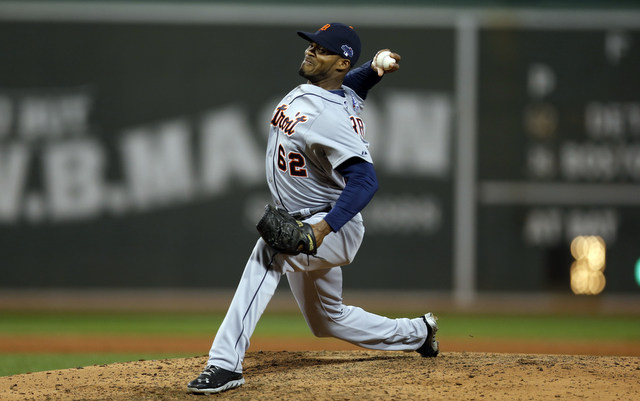 More ALCS: Game 2 starting lineups | Game 2 pitching preview | Who has the edge?
BOSTON -- Five pitchers held the Red Sox to one hit -- a one out single by Daniel Nava in the ninth -- in ALCS Game 1 on Saturday night, and the second of those five pitchers was right-hander Al Alburquerque. He struck out two in a perfect seventh inning.
Alburquerque, 27, has carved out a niche as a super-high-strikeout middle reliever for Detroit these last three seasons. His career 13.20 K/9 (34.1-percent of batters faced) is off the charts good, but his control problems (6.24 BB/9 and 15.6-percent of batters face) have prevented him from pitching the late innings with the game on the line.
The right-hander racks up all those strikeouts with a wipeout mid-80s slider. It's the pitch that got him to the big leagues and he knows that. It isn't a mystery. Alburquerque relies on the pitch so much that he threw it 63.6-percent of the time in 2013 according to PitchFX, by far the highest slider usage among pitchers to throw at least 45 innings. He's used his slider 58.7-percent of the time as a big leaguer overall.
So, naturally, Alburquerque rode his slider to success in Game 1, right? Wrong. Half of his 12 pitches were fastballs -- he averaged 95 mph with the pitch during the regular season according to PitchFX, so he can bring the heat -- but it's not how many he threw, it's when he threw them. Here's a real quick breakdown of the six fastballs:
• To Mike Carp: First pitch of at-bat, leading off the inning (called strike).
• To Jarrod Saltalamacchia: First pitch of at-bat, one out and bases empty (called strike).
• To Saltalamacchia: Third pitch of at-bat, 0-2 count with one out and bases empty (called strike three).
• To Jacoby Ellsbury: Third pitch of at-bat, 2-0 count with two outs and bases empty (called ball).
• To Ellsbury: Fourth pitch at-bat, 3-0 count with two outs and bases empty (called strike).
• To Ellsbury: Fifth pitch at-bat, 3-1 count with two outs and bases empty (called strike).

That's six fastballs, all taken, five for strikes. With the exception of the 0-2 pitch to Salty, they all came in traditional fastball counts. That's notable because Alburquerque usually doesn't throw his fastball in fastball counts, he throws his slider. He changed the scouting report and caught the Red Sox off guard with his heater.
"Alburquerque used his fastball last night," said manager Jim Leyland prior to Game 2. "We've been trying to get him to use it. Everyone knows he has slider."
Everyone does know he uses his slider, so Alburquerque (and catcher Alex Avila) used that to his advantage in Game 1. Obviously the results wouldn't have been as good had he not located the pitch for strikes, but he did and the Red Sox went down without much of a fight. Alburquerque's fastball usage in Game 1 is a great example of the cat-and-mouse game that takes place during the postseason, when teams look for every advantage.