AL Manager of the Year Watch: John Farrell stands out from the pack
As the season winds down, it's clear Red Sox manager John Farrell is the favorite for the AL Manager of the Year award.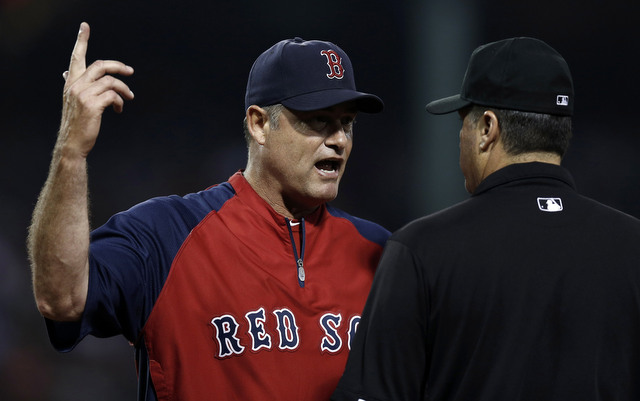 Awards Watch: NL MVP | AL MVP | NL Cy Young | AL Cy Young | NL Rookie of the Year | AL Rookie of the Year | NL Manager of the Year
Our bi-weekly look at the various major award races concludes with the American League Manager of the Year. For all intents in purpose, this award goes to the manager whose team most exceeds expectations. Nothing wrong with that, really.
Reminder: These are not our picks to win each award. It's who we think will win based on voter tendencies and that sort of stuff. Who will win and who should win aren't always the same thing.
John Farrell, Red Sox: Farrell has not only helped the Red Sox go from worst-to-first in his first year at the helm, he's also helped them clinch their first postseason berth since 2009. Hard to believe it's been that long. A division title is a foregone conclusion at this point. In a year with no other standout Manager of the Year candidates in the AL, the award is Farrell's to lose at this point.
Terry Francona, Indians: The Indians are currently on the outside of the playoff picture looking in, but they enter Friday just 0.5 games back of both the Rays and Rangers for a wild-card spot. Cleveland also has (by far) the easiest remaining schedule among AL contenders. If they make that late push and sneak into the postseason, Francona will get a ton of credit in his first year with the team.
Bob Melvin, Athletics: It's only a matter of time before the Athletics clinch their second straight AL West crown. They buried the Rangers last weekend and are coasting to the finish line despite once again having one of the game's smallest payrolls. Back-to-back Manager of the Year winners is a rarity -- only Bobby Cox (2004-05) has done it before -- but Melvin should at least garner serious consideration after winning the award in 2012.
Show Comments
Hide Comments