AL MVP Watch: Will injury derail Miguel Cabrera?
Here's a look at the race for AL MVP, with Miggy at the top, but Chris Davis, Adrian Beltre, Mike Trout and Max Scherzer in the mix.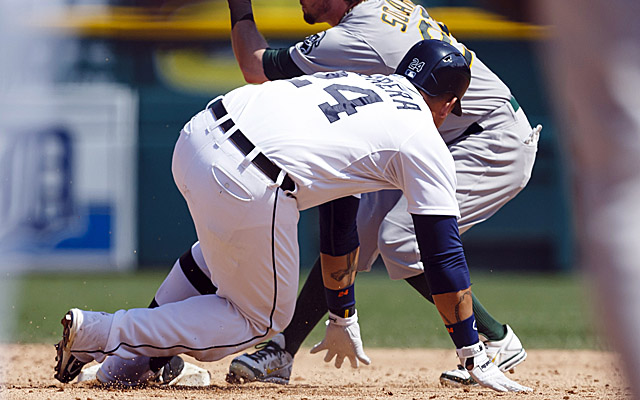 NL MVP Watch: Cutch taking control
Let's take another look at the race for the AL MVP, which still seems firmly in the hands of one man, unless a certain injury derails him for a while.
Obligatory: These aren't necessarily my picks or predictions, but instead an attempt to assess where the BBWAA voting body would stand on this particular award at this point in time.
Miguel Cabrera , Detroit Tigers : Miggy leads the majors in every major rate stat (average, on-base percentage, slugging percentage, OPS, OPS+), RBI and total bases. He's tied for the AL lead in runs and is second in the majors in homers. He plays for a first place team. This is a slam dunk unless injury derails him. And, uh oh, he hasn't played since Aug. 30. He'd probably have to miss a lot more time to lose out here, though.
Adrian Beltre , Texas Rangers : Gold Glove quality defense on a first-place team with a line of .327/.382/.536, 27 doubles, 28 homers, 82 RBI and an MLB-best 174 hits is going to get Beltre serious consideration -- especially after the Rangers lost Nelson Cruz to suspension. Beltre's best-ever finish in MVP voting is third (last season). Can he top that? It'll be tough. This is a loaded field.
Chris Davis , Baltimore Orioles : The man standing in the way of Cabrera's triple crown repeat is Davis, the MLB leader with 47 homers. He trails only Cabrera in RBI, as he's gathered 122 and is tied for the AL lead in runs with Cabrera.
Max Scherzer , Tigers: His 19-1 record is going to be pretty popular with voters. He also leads the AL in WHIP and sports a good strikeout rate. The record, however, is what carries the day here.
Mike Trout , Los Angeles Angels : He's hitting .335/.432/.576 with 35 doubles, nine triples, 23 homers, 82 RBI, 95 runs, 31 stolen bases and again leads the majors in both versions of Wins Above Replacement. The reality, however, is that -- despite MVP being an individual award -- players with poor teammates are punished in voting. I have no idea what Trout can do to make his pitching staff better, aside from playing good defense, which he does, but he won't be winning the MVP due to his teammates being bad. He'll end up with another top five finish, though. And no, I'm not saying I'd vote for Trout over Cabrera. I wouldn't. I'm just saying the argument against Trout should be different -- and better -- than bad teammates.
Manny Machado , Orioles: Remember when he was hitting in the .340 range and on pace for a record number of doubles? Since the All-Star break, the phenom is only hitting .265/.302/.398 with seven doubles. He's still an incredible talent and could finish in the top 10 of balloting, but he's no longer a serious candidate to end up in, say, the top three.
Evan Longoria , Tampa Bay Rays : The small-market Rays are once again in contention, holding onto the second wild card spot as of Tuesday. Longoria is the best position player and easily the most indispensable player on the club. His average (.263) is too low for him to get serious consideration from many voters, but he's great everywhere else. Should he bring that up to the .280s, he'll be looking at a best-ever finish in voting (his best finish was sixth in 2010).
Robinson Cano , New York Yankees ; Josh Donaldson , Oakland Athletics ; Jacoby Ellsbury , Boston Red Sox ; Edwin Encarnacion , Toronto Blue Jays ; Adam Jones , Orioles; Jason Kipnis , Cleveland Indians
Show Comments
Hide Comments