AL Rookie of the Year Watch: Martin Perez's stock rising
We continue our bi-weekly awards watch. It's time for AL Rookie of the Year, with the top candidates being Wil Myers, Chris Archer, Jose Iglesias and Martin Perez.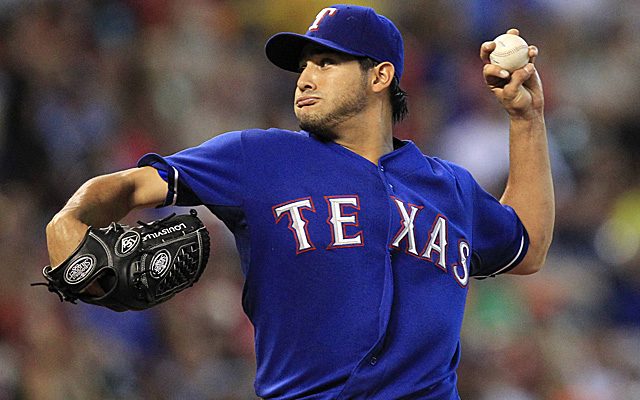 Awards Watch: NL MVP | AL MVP | NL Cy Young | AL Cy Young
As we sort through our bi-weekly awards watch, we stumble upon the most unimpressive group we'll cover. This isn't to say there aren't any worthy candidates, but there aren't any exceptional candidates at this point for the American League Rookie of the Year. We have more than three weeks to see a candidate go nuts and force the hands of the voting body, though.
Obligatory reminder: These aren't my picks. I'm trying to figure how the voting would shake out if it took place right now by the BBWAA. That means while some advanced metrics can be used, for the most part the traditional metrics win out. 
Chris Archer , Tampa Bay Rays : Opposite of the man listed three names below, Archer is headed in the wrong direction. Since the beginning of August, he's 2-3 with a 4.46 ERA. Still, there were three good outings mixed in there and on the season Archer is 8-6 with a 3.14 ERA, 1.12 WHIP and 75 strikeouts in 106 innings. He's playing for a contender, yes, but so are each of the other three top candidates here.
Jose Iglesias , Detroit Tigers : After an unsustainably hot start and then crash back to Earth, Iglesias is heating up again. In his past 16 games, he's hitting .380 with a .426 on-base percentage. He's served as a defensive upgrade over the suspended Jhonny Peralta at shortstop for the Tigers and carries a season line of .319/.366/.399 with 15 doubles, two triples, two homers, 26 RBI, 37 runs and four steals.
Wil Myers , Rays: Myers appeared set to cruise to this award, becoming the first AL position player to ever win the award with fewer than 100 games played. In fact, the fewest games ever played by an AL Rookie of the Year in a non-strike-shortened season is 122 ( Evan Longoria , 2008). If Myers plays every game the rest of the way, he'll have appeared in 92. So the task is to greatly outplay the rest of the field and force the voters' hands. As things stand, a recent slump means Myers is now hitting .291/.352/.480 with 11 homers, 42 RBI, 13 doubles and five steals. He has been huge the past two nights for the Rays (5-for-8 with two homers, two doubles and three RBI), so maybe it's the start of him taking control of this award again. I have a hunch he will. For now, though, Myers isn't separate. It's a four-man race.
Martin Perez , Texas Rangers : In his last seven starts, Perez is 6-0 with a 2.54 ERA. On the season, he's 9-3 with a 3.41 ERA, 1.28 WHIP and 63 strikeouts in 95 innings. If he stays this hot down the stretch for the contending Rangers, he has a great shot at the hardware.
Danny Farquhar , Seattle Mariners : Since becoming Seattle's closer, Farquhar has closed down 12 of 13 save chances with a 1.88 ERA and a whopping 21 strikeouts in 14 1/3 innings. That's outstanding, but it's less than 15 innings and on the season Farquhar has a 4.37 ERA. It's too tall a task to overcome his bad start and win the award based upon only two months as closer for a non-contender.
David Lough , Kansas City Royals : Quality average (.284) with good gap power (15 doubles and three triples in 285 at-bats) and good defense means he deserves mention.
Leonys Martin , Rangers: The five triples and 30 stolen bases are good, just as is his defense, but the .265/.320/.383 line won't be good enough -- especially with Perez being his teammate.
J.B. Shuck , Los Angeles Angels : He's hitting .290, but not much else is impressive.
Dan Straily , Oakland Athletics : He's 8-7 with a 4.38 ERA, 1.30 WHIP and 102 strikeouts in 127 1/3 innings for a contender. My feeling is he'd finish fifth in voting if it were held right now.
There are more names, but they have serious flaws as Rookie of the Year candidates, such as Nick Franklin (hitting .223), Jarred Cosart (only nine starts; only one win), Yan Gomes (he was on an active roster for more than 45 days last season -- other than September, which doesn't count against rookie eligibility -- so he's technically not a rookie) and several relievers who don't get saves.
Show Comments
Hide Comments