Albert Pujols says he feels 'like when I was in St. Louis' at the plate
After getting off to a relatively slow start to the season, Albert Pujols believes he's righted the ship with a mechanical adjustment.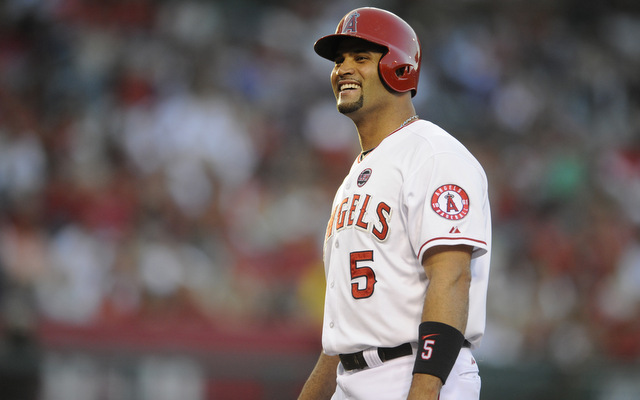 More MLB: Scoreboard | Standings | Probable Pitchers | Sortable Stats | Odds
Through 70 games this season, Albert Pujols is hitting a very good .263/.334/.453 (121 OPS+) with 12 home runs in 314 plate appearances. It's very good for most players, but it is also the worst season of Pujols' career. It's the fifth consecutive year his OPS+ has declined.
The good news for the Angels is that their high-priced slugger has performed much better of late, going 17 for 48 (.354) with three homers, three doubles, seven walks and three strikeouts in his last 12 games. That's a 1.043 OPS across 57 plate appearances.
On the surface, it's a hot streak. Pretty much everyone who plays full-time will have a few hot streaks during the season. Pujols, however, swears something is different, that something clicked during an at-bat against the Red Sox on June 8. Here's what he told Alden Gonzalez of MLB.com on Wednesday:
"I was like ... this is me right here,'" Pujols said. "That did it. I feel right now like my old me, like when I was in St. Louis."

(snip)


"Not at all, man -- I swear," Pujols said. "There were some streaks here and there that I hit, but I was battling. I never got to a point where I could say, 'Holy cow, that's my bat speed.'"
Pujols says he made a slight adjustment prior to a game two weeks ago, a game in which he hit a two-run homer against the Cubs. It wasn't until the game against the Red Sox that it really clicked. Pujols credits video work for the fix, which take some stress off his surgically repaired right knee.
"But I still feel like I can do a little bit better with it," Pujols said. "It's just part of making adjustments, and never feeling satisfied with what you do."
Mechanical adjustments are on the outskirts of "best shape of his life" territory, especially in spring training. Players talk about adjustments all the time and they very rarely result in any kind of meaningful improvement.
In-season adjustments are the same way, and I think a lot of times there is just a placebo effect. A guy might think he's doing something differently and wind up have more confidence. I'm not saying that is the case with Pujols, but it happens all the time.
Maybe Pujols found a solution to whatever ailed him in those old videos from his days with the Cardinals, or maybe it's just a two-week hot streak. I tend to be skeptical in these situations and want to see more plate appearances before declaring Pujols over whatever problem he has been having since arriving in Anaheim. We've heard this kind of stuff before.