ALCS Game 1 grades: Tigers' pitching staff, Peralta earn high marks
The Tigers graded Game 1 of the ALCS thanks to their pitching staff and Jhonny Peralta's hot bat.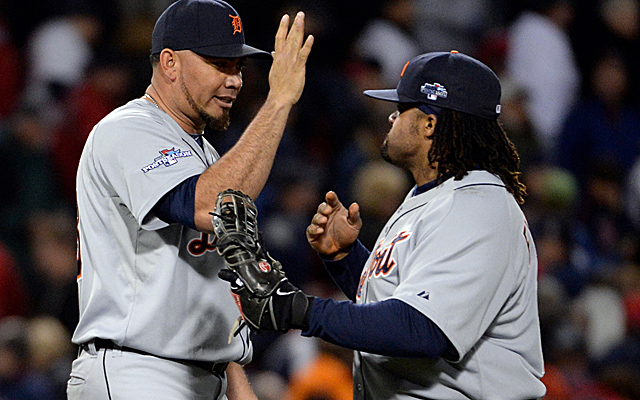 More ALCS: Game 1 box score | Game 1 quick hits | Who has the edge?
BOSTON -- The Detroit Tigers grabbed Game 1 of the ALCS from the Boston Red Sox with a tight, well-pitched 1-0 win that legitimately felt like it could go either way right down to the final at-bat. Detroit takes a one game-to-none lead in the best-of-seven series and has co-aces Max Scherzer and Justin Verlander lined up for Games 2 and 3, respectively. They are definitely sitting pretty. Let's hand out some grades for Game 1.
Team
Grade
Analysis
A
I feel wrong singling out one pitcher because this was a total team effort from top to bottom. Starter

Anibal Sanchez

struck out a dozen in six hitless innings before giving way to

Al Alburquerque

,

Jose Veras

,

Drew Smyly

and

Joaquin Benoit

. Benoit allowed Boston's only hit -- a one-out single by

Daniel Nava

in the ninth -- but the tying run was stranded at stranded at second base. The Tigers' staff tied a postseason record with 17 strikeouts, and they recorded 24 of their 27 outs on the infield.
B+
Offensively,

Jhonny Peralta

was a one-man army in Game 1. He not only drove in the game's only run with a two-out, two-strike single to center in the sixth inning, but he also doubled twice and gave his team an opportunity to plate more runs. Peralta has been on a tear these last few games despite learning a new position and having his timing thrown off by a 50-game PED suspension.
C
It was a not-so-good day at the plate for

Stephen Drew

but a pretty good night in the field. He went 0-for-3 with a walk and two strikeouts, most notably striking out with the bases loaded to end the sixth inning. Sanchez was on the ropes and Drew let him escape. Defensively, he made an excellent over-the-shoulder grab in shallow center field to end the ninth inning. The Tigers had men on second and third, so that ball meant two runs if it fell in.
D
The Tigers base-running in general was pretty terrible. Some of it is just stuff they have to deal with, like a hobbled

Miguel Cabrera

turning a double into a single in the first inning. Others were self-inflicted, like

Omar Infante

getting thrown out at the plate on the contact play in the fifth inning. Peralta was also caught wandering too far off second base when

Mike Napoli

fielded a hard-hit grounder and at first and threw over to get the lead runner. Not the best day on the bases for Detroit.
F
MLB's umpires are under more scrutiny than ever thanks to the ultra-fast paced internet/Twitter age, and home plate umpire Joe West is at the forefront of all it. As the PitchFX data shows, he had a very big strike zone (particularly down) some of the time in Game 1 and a tight zone at others. Add in his slow "look at me!" called strike three punch-out and you've got the recipe for grade F.
Show Comments
Hide Comments