ALCS Game 5 Red Sox-Tigers lineups: Xander Bogaerts gets a start
The Red Sox are shaking up the left side of their infield in ALCS Game 5 by giving young Xander Bogaerts his first start. Here are the two starting lineups.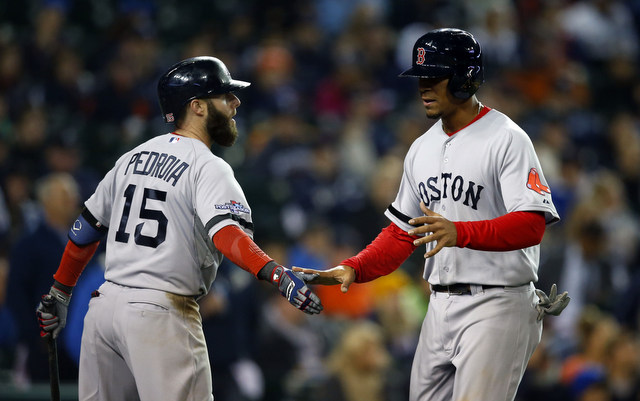 More ALCS: Game 5 pitching preview | Game 5 weather | Who has the edge?
DETROIT -- The ALCS is a best-of-three series now, so I guess it's appropriate Game 5 will feature a rematch of the Game 1 starting pitchers. First pitch is scheduled for a little after 8pm ET and can be seen on Fox. Here are each team's starting lineups:
Boston Red Sox
Jacoby Ellsbury

, CC

Shane Victorino

, RF

Dustin Pedroia

, 2B

David Ortiz

, DH

Mike Napoli

, 1B

Jonny Gomes

, LF

Stephen Drew

, SS

Xander Bogaerts

, 3B

David Ross

, C
Starting pitcher: Jon Lester , LHP
Detroit Tigers
Torii Hunter

, RF

Miguel Cabrera

, 3B

Prince Fielder

, 1B

Victor Martinez

, DH

Jhonny Peralta

, LF

Omar Infante

, 2B

Alex Avila

, C

Austin Jackson

, CF

Jose Iglesias

, SS
Starting pitcher: Anibal Sanchez , RHP