ALDS Game 2 grades: Thank you, Sonny Gray and Justin Verlander
A Saturday of ALDS action is over, and as the series shift to Detroit and Florida, it's time to hand out grades.
by

Eye on Baseball staff

• 2 min read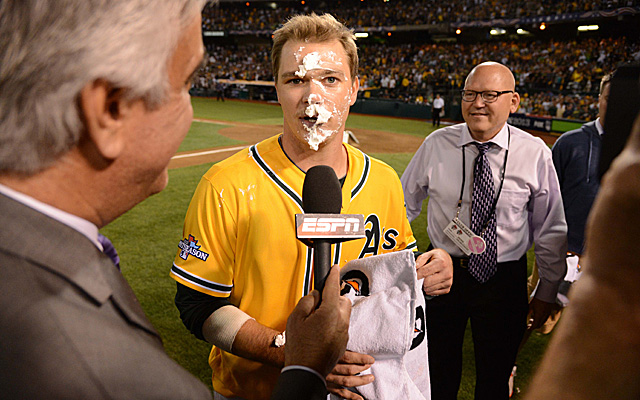 Red Sox-Rays quick hits | A's-Tigers quick hits | Price's last TB start? | Cabrera's loss of power
Instead of the four games we had Friday, we were only blessed with two Saturday. But, boy, did the nightcap more than make up for the downturn in number of games. What an amazing pitcher's duel. It's no coincidence that we'll be starting off with that.
| Team | Grade | Analysis |
| --- | --- | --- |
|   | A+ | This is for both starting pitchers in the A's-Tigers bout -- Sonny Gray and Justin Verlander. I only had room for one picture, but this is still a co-A+. While some may not prefer the phrasing, I mentioned on several occasions on Twitter this was pitching porn. High heat, nasty breaking pitches, knees buckling. It was a veritable paradise for any real baseball who loves watching sick pitching. Superlative effort by both starters. The combined final line of the two: 15 innings, eight hits, zero earned runs, three walks and 20 strikeouts. Have a night, boys. Beautiful. - Matt Snyder |
| | B+ | On an afternoon/evening when the ball was flying around Fenway (starters David Price and John Lackey got cuffed around), the Boston bullpen -- Craig Breslow, Junichi Tazawa and Koji Uehara in particular -- combined to allow one hit and no runs over 3 1/3 innings of work. Breslow got in a bit of tight spot in the 7th, but a huge double play allowed him to escape. The Rays mounted threats all game long, but the Red Sox's relief corps provided the consistency that eluded Lackey. - Dayn Perry |
|   | C | This grade is for the Oakland offense. They got the win with a clutch ninth inning, but the A's are still missing far too many pitches. They've now struck out 27 times in two ALDS games. Saturday was a step in the right direction, though, as they collected eight hits and three walks. We also have to factor in that we saw the A's face the AL Cy Young winner Friday and vintage Verlander Saturday, but the fact remains they need to start doing a better job of putting the ball in play moving forward. So we'll call it a C. - Matt Snyder |
| | D | Young Wil Myers did his job in the field, which wasn't the case in Game 1, but in Game 2 he went 0-for-5 at the plate with a strikeout and three runners left on base. Rough series thus far for the possible AL Rookie of the Year. - Dayn Perry |
|   | F | The F for Saturday goes to Major League Baseball for assigning the worst home-plate umpire in baseball to work a playoff game behind the plate. C.B. Bucknor had the task for the epic pitcher's duel in Oakland. He wasn't as much a sideshow as we thought he'd be, but he missed several pitches in the first two innings and then had a hilarious gaffe on Eric Sogard's strikeout in the fifth. Sogard clearly swung through a Verlander pitch, which also clearly bounced. Bucknor motioned that it was tipped but Tigers catcher Alex Avila caught it. So he was 0-for-2. Hilariously, the result should have been a strikeout and was a strikeout, so he backed into the right answer. Again, Bucknor wasn't deserving of an F for this game, but he also wasn't deserving of an assignment. Merit should be rewarded. - Matt Snyder |
Show Comments
Hide Comments