Alex Rios becomes third player to hit for the cycle in 2013
In the span of six innings on Monday night, Alex Rios became the third player to hit for the cycle this season.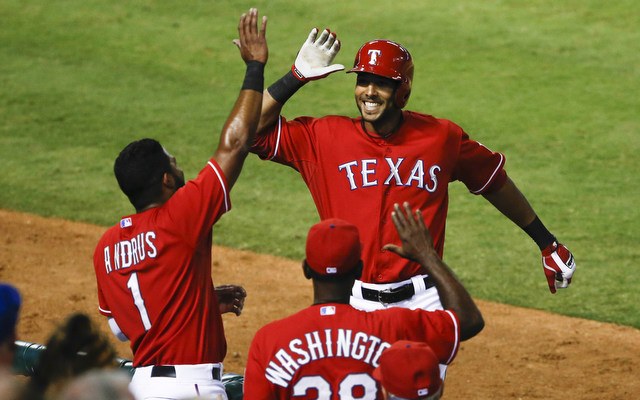 More MLB: Scoreboard | Standings | Probable Pitchers | Sortable Stats | Odds
A double in the first, an infield single in the third, a solo home run in the fourth, a triple in the sixth ... boom! Congrats on becoming the third player to hit for the cycle this season, Alex Rios. Here's the (unembeddable) video.
Rios, 32, was hitting .269/.309/.423 (97 OPS+) with five home runs in 39 games for the Rangers coming into Monday. They acquired him from the White Sox in a waiver trade on August 9, after Texas lost Nelson Cruz to his 50-game Biogenesis-related suspension.
Mike Trout (May 21) and Brandon Barnes (July 19) hit for the cycle earlier this season. Three players hit for the cycle a total of four times last year -- Aaron Hill did it twice in the span of 11 days.
Rios is the fourth Ranger to hit for the cycle since 2009. Ian Kinsler (2009), Bengie Molina (2010) and Adrian Beltre (2012) all did the deed as well. Four players from one team hitting for the cycle in the span of five seasons seems like a lot, no?
The Rangers clobbered the Astros by the score of 12-0 on Monday. They are one game back of the Indians for the second wild-card spot.
Show Comments
Hide Comments