Alexi Ogando may not make Rangers' injury-riddled rotation
Even with Matt Harrison and Derek Holland injured, former All-Star Alexi Ogando hasn't yet won a job in the Rangers rotation.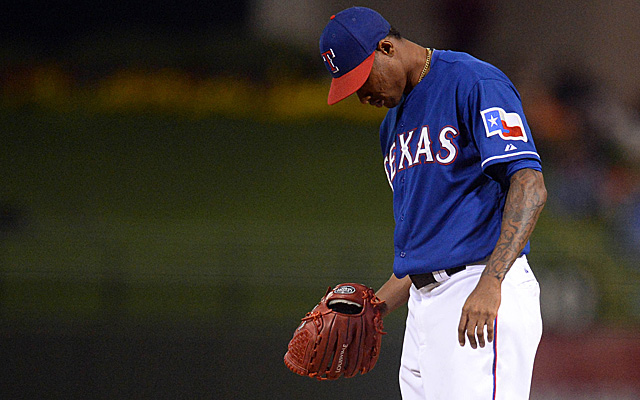 MORE: Spring Training | Scoreboard | Team previews
After a rough outing Tuesday night against the Cubs, Alexi Ogando seems in danger of not making the Rangers' season-opening rotation. Multiple game stories (MLB.com and dallasnews.com, to name two) noted as much after Ogando was roughed up in three innings.
In the outing, Ogando allowed five runs on six hits in three innings. All five runs were unearned, but it's not as though he was blameless, having allowed back-to-back homers to Cubs prospects Mike Olt and Javier Baez as part of the damage.
On the spring, Ogando has a 6.35 ERA and 2.12 WHIP. In 11 1/3 innings, he's allowed 20 hits, including three homers.
Considering Matt Harrison and Derek Holland are injured, the former All-Star Ogando seemed a shoo-in to be in the Rangers rotation along with Yu Darvish and Martin Perez while the likes of Tommy Hanson, Joe Saunders, Nick Tepesch, Robbie Ross and Colby Lewis battled for the last two spots.
Instead, Ogando might be slotted back in the long relief role, meaning the Rangers would need to choose three starters from the above list.
Needless to say, this has been a bit of a nightmare offseason/spring for the Rangers when it comes to the rotation.
Show Comments
Hide Comments