All-Snub Team: National League
What does an All-Star team made up of non-All-Stars in the National League look like? Here it is.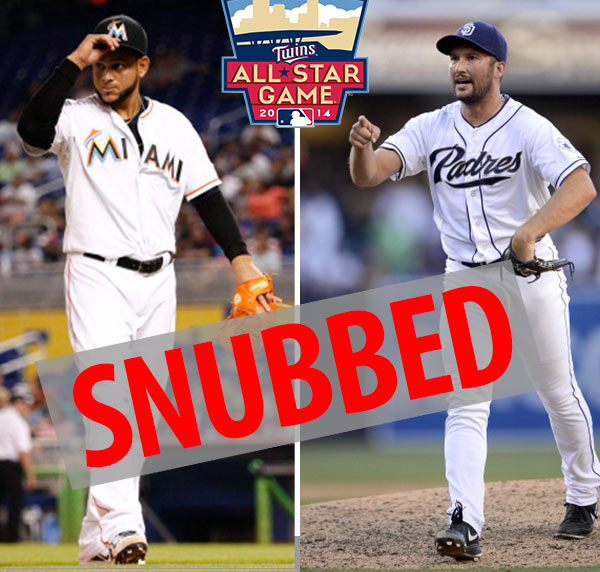 More All-Star Game: Full AL and NL Rosters | Final Vote | AL Snubs
The initial rosters for the 2014 MLB All-Star Game were revealed Sunday evening and, as always, there's a notable list of players having a very good season that were left off either roster for whatever reason. Let's throw together a lineup of the biggest snubs, just for fun. We'll leave out the guys on the Final Vote ballot and please take note that some of these guys could be added to the roster eventually due to injuries and/or starting pitchers being unavailable for the game. 
To reiterate, the selections below do not includes players voted in as starters, players selected to the All-Star team either by their fellow players or by St. Louis Cardinals manager Mike Matheny or those included in the "Final Vote." 
The National League All-Snub team (click here for the AL All-Snub Team)

Catcher - Evan Gattis , Atlanta Braves
Gattis is injured and couldn't have played in the game anyway, but he is having the best season among catchers who didn't make the team. He's hitting .290/.342/.558 with 16 homers for a first-place team.
Also considered: Buster Posey , San Francisco Giants
First base - Adam LaRoche , Washington Nationals

The 34-year-old LaRoche is hitting .294/.401/.482 with 12 homers and 45 RBI this season. He misses out at a crowded position.
Also considered: Matt Adams , Cardinals. Also, Anthony Rizzo and Justin Morneau would have been selected above LaRoche, but they are on the Final Vote ballot.
Second base - Scooter Gennett , Milwaukee Brewers

The diminutive youngster is hitting .305/.343/.473 with 21 doubles, two triples, six homers and 28 RBI for a first-place team.
Also considered: Neil Walker , Pittsburgh Pirates
Shorstop - Hanley Ramirez , Los Angeles Dodgers

He's hurt a lot -- even if just day to day stuff this time around, but Ramirez is still having a productive season for LA, hitting .273/.366/.472 with 11 homers, 48 RBI and 11 steals.
Also considered: Andrelton Simmons , Braves; Jhonny Peralta , Cardinals; Ian Desmond , Nationals
Third base - Nolan Arenado , Colorado Rockies

Now that he's healthy, we can safely list Arenado here. He plays exceptional defense and is hitting .291/.318/.461 with six homers and 29 RBI this season.
Also considered: Anthony Rendon would be the easy pick here if not for being on the Final Vote, along with Casey McGehee .
Outfield - Corey Dickerson , Rockies; Jayson Werth , Nationals; Ryan Braun , Brewers

Despite not having been a full-timer all year, Dickerson is having an outstanding season for Colorado, hitting .335/.402/.608 with 14 doubles, three triples, 11 homers, 34 RBI and six steals.
Werth is hitting .280/.364/.413 with 19 doubles, eight homers, 44 RBI and 49 runs for a good Nationals ballclub this season. Though they dealt with injuries at other positions throughout much of the early going, Werth was their rock in the lineup.
Through multiple injuries, Braun has still managed to hit .288/.340/.507 with 11 homers and 49 RBI for a first-place team.
Also considered: Seth Smith , San Diego Padres ; Billy Hamilton , Cincinnati Reds . And, of course, Justin Upton is on the Final Vote ballot.
Starting pitcher - Henderson Alvarez , Miami Marlins ; Jake Arrieta , Chicago Cubs

Has Arrieta pitched enough? If you believe 12 starts -- as opposed to the 17 or so most starters have logged to this point -- is enough, you have to agree Arrieta has been All-Star-caliber. He's 5-1 (on a last-place team) with a 1.78 ERA, 1.02 WHIP and 79 strikeouts in 70 2/3 innings since coming off the DL, where he began the season.
Alvarez is 6-3 with a 2.27 ERA in 18 starts for the Marlins and he's already racked up three shutouts. With Jose Fernandez going down to a season-ending injury, Alvarez has more than qualified as a replacement ace.
Also considered: Tim Hudson , Giants; Alfredo Simon , Reds; Doug Fister , Nationals; Hyun-Jin Ryu
Relief pitcher - Huston Street , Padres; Tyler Clippard , Nationals

Street has closed down 23 of 24 save chances this season with a 1.13 ERA, 0.78 WHIP and 33 strikeouts against only seven walks in 32 innings. Save for a departure from San Diego, I'm not quite sure what more he could have done to make the team.
Clippard is one baseball's premier setup men, posting 19 holds and one save with two blown saves and a 1.89 ERA, 50 strikeouts in 38 innings and a 6-2 record.
Also considered: Joaquin Benoit , Padres; Kenley Jansen , Dodgers; Zach Duke , Brewers; Jonathan Papelbon , Philadelphia Phillies