All-Star catcher Jason Castro now a Stanford graduate
Astros catcher Jason Castro is coming off an All-Star season and now he's a Stanford graduate. Decent year, eh?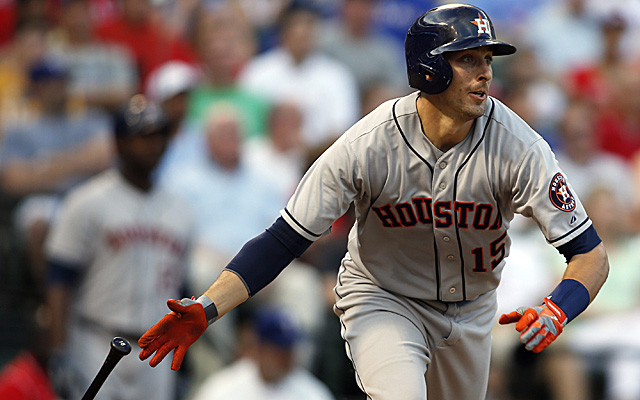 MORE: FA tracker: position players | FA tracker: pitchers
What a year for Astros catcher Jason Castro.
Win full-time catching job out of spring training? Check.
First All-Star Game? Check.
Degree from top-notch university? Check.
Castro, 26, was drafted in the first round of out Stanford in 2008. At the time, he was 25 units shy of his degree. He knocked out 15 in 2010, but 10 remained until this offseason due to some circumstances -- like rehabbing from a torn ACL and meniscus in his right knee in 2011.
Castro chose this offseason to finish his coursework. Via Alyson Footer of MLB.com:
As soon as the 2013 season was over, Castro headed to Northern California, in order to finish his coursework at Stanford. He turned in his final term paper a couple of weeks ago, took one last final exam, and became a college graduate.
"That was my intention my whole time, to graduate," Castro said via cell phone while vacationing in Hawaii. "I was so close when I was [drafted]. It wasn't a question of getting it. It was question of when."
Castro is coming off a breakout season in which he hit .276/.350/.485 (130 OPS+) with 35 doubles, 18 homers and 56 RBI in 120 games. His season was cut short due to a right knee injury, though it wasn't serious this time around and he should be good to go come spring training.
The graduation is obviously important and a feather in the cap of Castro, but it also took me back to one of my favorite sarcastic Greg Maddux comments. Back in 2004, Maddux's teammate Mark Prior graduated from USC, and Maddux joked that Prior just became "way overqualified" for his job.
Castro has made a tick over $1.4 million thus far and will likely make a lot more playing baseball throughout his career, but it never hurts to have a fallback option. Having a degree from a prestigious university like Stanford is a pretty decent fallback, no?
Show Comments
Hide Comments