All-Star Game lineup could be like torch passing from Jeter to Trout
With Derek Jeter batting leadoff for the AL and Mike Trout hitting second in Tuesday's All-Star Game, it seems to mark a bit of a passing of the torch of The Face of Baseball.
All-Star Game: Starting lineups | AL, NL rosters | Cespedes wins HR Derby
MINNEAPOLIS -- Talking about "the face of" anything can sometimes be a bit of a dubious task in sports discussions. It's completely subjective, at times, and has a tendency to make fans of other teams a bit angry. Because if someone is called the Face of Baseball and he's not on your favorite team, your guy is slighted. 
At this juncture, though, I think most would admit Derek Jeter has at least been in the conversation for nearly two decades. At the core, you have a guy who stays out of trouble, plays hard, says all the right things and is very recognizable by non-baseball fans. He's a media superstar and it's not only limited to baseball.
As we know, this is Jeter's final season, though, and he's batting leadoff for the AL in Tuesday's All-Star Game. Right behind him in the AL lineup? Angels superstar Mike Trout. Might he be the guy?
"Whoever's career takes the biggest leap forward is going to be that guy," said veteran All-Star Tim Hudson. "Jeter's gonna pass the torch to someone. Trout's a great candidate. The talent and skills are there, no question about it. He seems like a very likeable guy and you don't hear bad things about him. He's on the short list, for sure."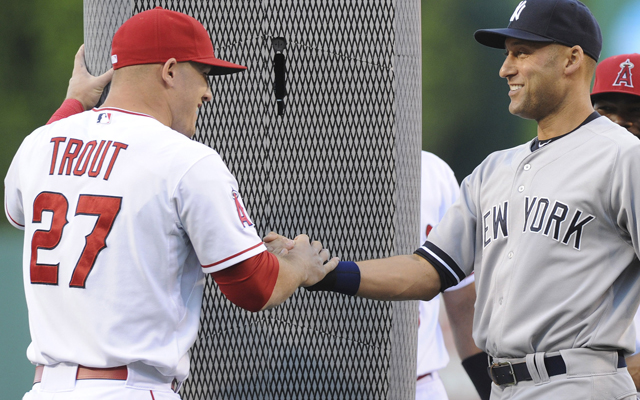 As Hudson noted, Trout pretty much has it all. He's only 22 years old, is already playing in his third All-Star Game, has the so-called "winning smile," plays the game with passion and excitement without ever really showing up the opposition and stays out of trouble off the field. All that is in addition to his monster numbers for someone so young.
What Trout needs to add, of course, is postseason appearances. Jeter has five World Series rings and was a staple in October during the Yankees dynasty. Trout has yet to play in the postseason, but the Angels have the second-best record in all of baseball at the All-Star break, with a 57-37 mark. Also note that Jeter won his first ring in his age-22 season, and Trout is playing in his age-22 season, so it's not like he's actually behind the curve here. What if he has a huge October? He'll become an even bigger star than he already is.
And though I shouldn't have to say it, I will: Saying Mike Trout is the next face of baseball doesn't mean I'm comparing him to Jeter as a player. It doesn't have to be a comparison. It's just a matter of who is the most marketable and recognizable star nationwide (going from Kobe Bryant to LeBron James in the NBA, for example, doesn't mean you are comparing them as players). As noted earlier, Trout has all the ingredients. He's also increasing his power stroke while offense is down, as he already has 22 homers (his career high is 30) with a .606 slugging percentage, dwarfing his already-robust .557 figure from last season. That's gotta be popular with casual fans.
Trout's already doing some commercials and already has his own Nike baseball shoe line. One might recall that Jeter has a Jordan shoe line himself.
So it makes sense, and with Trout hitting second for the AL behind Jeter, it's rather easy to consider the proverbial passing of the torch to the next generation.
"[Jeter] is always positive, he's fun to watch," Trout said of his soon-to-be temporary teammate. "I'm looking forward to hitting behind him."
As for taking over the title of "face of baseball ... "
"I can't get caught up in that," he said. "I just need to focus on playing the game as hard as I can and improving as a player."
Which is exactly what he should say. How very political. How Jeter-esque, in fact.
Show Comments
Hide Comments