All-Time Single-Season Teams: The National League simulation
For our final foray into all-time single-season teams, we've run a simulation of a virtual 162-game season. Here's the NL regular season standings and leaderboard along with picks for MVP and Cy Young.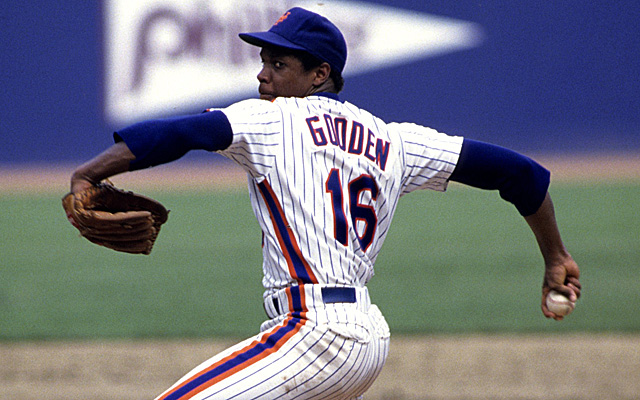 ALL-TIME SINGLE-SEASON TEAMS: CHC | STL | MIL | CIN | PIT | CHW | DET | KCR | CLE | MIN | ARI | COL | SD | LAD | SF | SEA | HOU | LAA | TEX | OAK | BOS | NYY | BAL | TOR | TBR | MIA | NYM | ATL | WAS | PHI
SIMULATION RESULTS: American League
Those who have been following along the past four weeks here at Eye on Baseball know that we've been compiling some All-Time Single-Season teams (see handy links above!) for each of the 30 franchises. In our final foray into this series, we've simulated out a full season on Diamond Mind Baseball with the help of our good friend Michael Cimilluca of dtbaseball.com.
As for the settings, we ran one full, 162-game season in the current ballpark of each franchise. So imagine Ty Cobb playing in Comerica Park and Walter Johnson pitching in Target Field, for example. Injuries have been turned off, so those don't factor in -- and while that's not realistic, we're talking about Babe Ruth being on the same team as Derek Jeter , so let's suspend the hope for realism. This is just for fun.
All-Time Single Season AL vs. NL | By the numbers
Anywho, here's what happened with the National League in our simulation.
National League Standings
East
W
L
Pct
GB
RF
RA

Atlanta Braves

96
66
.593
-
772
696

Philadelphia Phillies

86
76
.531
10
973
689

New York Mets

79
83
.488
17
858
715

Washington Nationals

65
97
.401
31
810
798

Miami Marlins

60
102
.370
36
578
779
Central
W
L
Pct
GB
RF
RA

Chicago Cubs

92
70
.568
-
849
728

St. Louis Cardinals

92
70
.568
-
755
624

Cincinnati Reds

92
70
.568
-
862
724

Pittsburgh Pirates

91
71
.562
1
786
754

Milwaukee Brewers

63
99
.389
29
616
814
West
W
L
Pct
GB
RF
RA

Los Angeles Dodgers

95
67
.586
-
814
717

San Francisco Giants

90
72
.556
5
819
774

San Diego Padres

87
75
.537
8
725
694

Colorado Rockies

67
95
.414
28
721
865

Arizona Diamondbacks

60
102
.370
35
572
707
Wow. A three-way tie atop the NL Central with the Pirates only a game back. We missed out on a race for the ages with this being fictional and all.
Want some league leaders? But of course you do. You're only human.
National League Batting Leaders
Average
Player
AVG
Honus Wagner, PIT
.403
Chuck Klein, PHI
.320
R. Hornsby, ATL
.310
Joe Torre, STL
.308
Tony Gwynn SD
.306

 

Home Runs
Player
HR
Barry Bonds, SF
74
Mike Schmidt, PHI
64
Willie Mays, SF
60
Roger Hornsby, ATL
52
Jim Edmonds, STL
50

 

Runs Batted In
Player
RBI
Willie Mays, SF
151
Hank Aaron, ATL
130
George Foster, CIN
130
Mike Schmidt, PHI
126
Ryan Howard , PHI
126

 

Hits
Player
H
Honus Wagner, PIT
282
Roger Hornsby, SF
231
Roger Hornsby, ATL
213
Jose Reyes , NYM
211
R. Clemente, PIT
207
On Base
Player
OBP
Honus Wagner, PIT
.460
Barry Bonds, SF
.431
Joe Morgan, CIN
.421
R. Ashburn, PHI
.398
Todd Helton , COL
.396

 

Slugging
Player
SLG
Barry Bonds, SF
.709
Honus Wagner, PIT
.667
Roger Hornsby, ATL
.611
Mike Schmidt, PHI
.607
Willie Mays, SF
.595

 

Stolen Bases
Player
SB
H. Wagner, PIT
76-29
Joe Morgan, CIN
74-17
Tim Raines, MON
65-17
Paul Molitor, MIL
58-19
Matt Kemp , LAD
48-18

 

Triples
Player
3B
Jose Reyes, NYM
29
Jimmy Williams, PIT
25
Honus Wagner, PIT
24
Jimmy Rollins , PHI
20
Stan Musial, STL
17
National League Pitching Leaders
Wins
Player
W-L
D. Dean, STL
22-8
D. Gooden, NYM
19-7
D. Drysdale, LAD
18-6
P. Alexander, CHC
18-7
G. Maddux, CHC
18-8

 

Earned Run Average
Player
ERA
G. Maddux, ATL
2.69
R. Johnson, ARI
2.81
D. Gooden, NYM
2.81
D. Dean, STL
2.89
H. Brecheen, STL
2.97

 

Strikeouts
Player
K
J. Fernandez, MIA
263
R. Johnson, ARI
252
C. Kimbrel, ATL
228
D. Vance, LAD
221
D. Gooden, NYM
221

 

Saves
Player
S-BS
C. Kimbrel, ATL
41-11
E. Gagne, LAD
38-5
T. Hoffman, SD
37-4
G. Gossage, PIT
35-4
B. Sutter, CHC
33-10
Awards? Sure, I'll hand out come hardware.
MVP: It's true that his team missed out on the playoffs by one game, but Honus Wagner hit over .400 while leading the NL in on-base percentage, hits, doubles (62!), extra base hits, total bases, and stolen bases while finishing second in slugging percentage and runs. He also finished third in triples and had the longest hitting streak at 31 games. He's the choice. Much to the dismay of the masses, the Giants version of Barry Bonds would have been my next choice and gets the runner-up.
Cy Young: I'm going with Dwight Gooden. He was 19-7 on a losing team with a 2.81 ERA (tied for second). He ranked in the top 10 in strikeouts and allowed slugging percentage while also tying for the NL lead in quality starts (with Dizzy Dean) and shutouts (with five others). This one was crowded, though. Both Greg Maddux versions (Braves and Cubs) were in the mix along with Dean, Randy Johnson, several other starters and Craig Kimbrel -- the latter of whom struck out 228 hitters in 121 innings with a 1.85 ERA and 41 saves. Huh? Yeah, that's a simulated season with no injury concerns for you.
Definitely feel free to check out the leaderboards (linked above in the tables) and make your own selections for the awards, of course. It's all subjective.
There you have it. Make sure to check out the AL version and, of course, the postseason results to see who our virtual World Champion is.
Show Comments Hide Comments