All you need to know: MLB news, rumors for Feb. 12
Click on through to see a quick summary of the news and rumors from February 12. Included: Yankees, Phillies, Mets, Mariners, Dodgers, Rangers, Tigers, Rays and Nationals.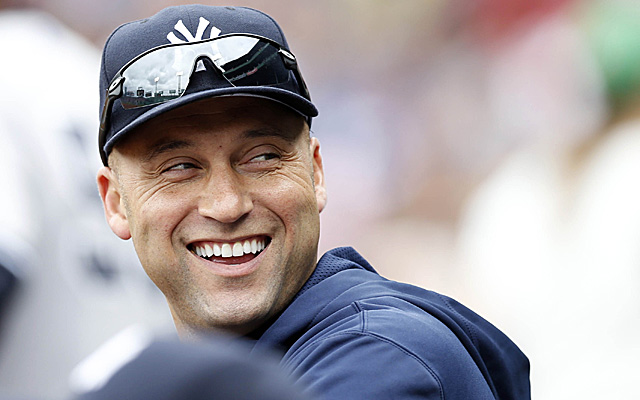 MORE: FA tracker: position players | FA tracker: pitchers
Wednesday brought us some fairly big news on several fronts. It wasn't just Derek Jeter 's upcoming retirement. There were some other movements that were very noteworthy. For those who missed out as things transpired, here's our handy little roundup post for the day. Check it out:
RETIREMENT ANNOUNCEMENT
•Yes, Derek Jeter has announced that the 2014 season will be his final one. The guess is you already heard this.
SIGNINGS
•The Los Angeles Dodgers have agreed to terms with Cuban shortstop Erisbel Arruebarruena (MLB.com on Twitter). We've previously detailed Arruebarruena as reportedly a brilliant defender with serious questions about his bat.
•The New York Mets have agreed to bring in former All-Star closer Jose Valverde on a minor-league deal.
•The Philadelphia Phillies have signed free agent starting pitcher A.J. Burnett to a one-year, $16 million deal.
AVOIDS ARBITRATION
•The Kansas City Royals and All-Star closer Greg Holland settled on a $4.675 million deal for this coming season (Kansas City Star). In the linked story is a note that the Royals and Holland have mutual interest in a long-term deal.
INJURIES
• Seattle Mariners starter Hisashi Iwakuma will miss four to six weeks with a strained finger.
•Phillies starting pitcher Cole Hamels is behind schedule, due to shoulder tendinitis.
• Texas Rangers second baseman Jurickson Profar is also dealing with shoulder tendinitis.
REPORTS, RUMORS AND SPECULATION
•There hasn't been progress on a contract extension between the Detroit Tigers and Miguel Cabrera , per MLB.com beat writer Jason Beck, but Cabrera is still locked up through the next two seasons.
• Hanley Ramirez told the Los Angeles Times that he wants to be a "Dodger for life." He's only signed through this season, so expect a possible contract extension to be a story this spring.
•The Tampa Bay Rays and Washington Nationals are talking about a trade that would involve sending backup catcher Jose Lobaton to Washington, reports Marc Topkin of the Tampa Bay Times.
Show Comments
Hide Comments