All you need to know: MLB news, rumors from Feb. 13
Time for our nightly roundup, where we'll hit on the Orioles, Nationals, Rays, Cubs, Dodgers, Mariners, Angels, Phillies and Reds.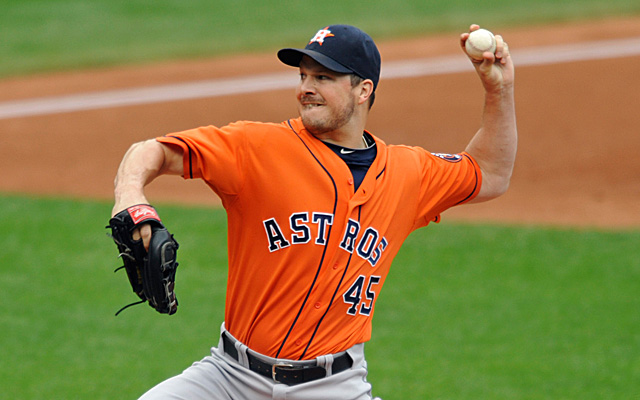 MORE: FA tracker: position players | FA tracker: pitchers
The week where pitchers and catchers report to camp for all 30 teams continues, and yet those same five free agents with draft compensation attached still remain on the market. Jon Heyman took a look at the five players in addition to seven teams who could use an addition.
As for the news and rumors from Thursday, let's get to it.
SIGNING
Baltimore Orioles : They have agreed to sign Korean pitcher Suk-min Yoon, though it's still pending a physical.
TRADE
The Tampa Bay Rays sent backup catcher Jose Lobaton to the Washington Nationals in a four-player trade.
INJURIES
Chicago Cubs : Starting pitcher Jake Arrieta is dealing with right shoulder tightness and his status for making the opening day rotation is already doubtful (csnchicago.com).
Los Angeles Dodgers : Due to shoulder inflammation, Yasiel Puig is on a limited throwing program.
Seattle Mariners : Center fielder Franklin Gutierrez is out for the entire 2014 season due to continued gastrointestinal issues. Not only that, but rookie sensation Taijuan Walker is dealing with shoulder soreness (seattlepi.com) -- and the Mariners rotation already has issues with the Hisashi Iwakuma injury.
REPORTS, RUMORS AND SPECULATION
Los Angeles Angels : They might soon get into negotiations with superstar Mike Trout on a long-term deal. It's fun to imagine what kind of figures will start flying here, no?
Mariners: They signed pitcher Randy Wolf to a minor-league deal, the club announced Thursday. On the flip side, negotiations between the club and free agent slugger Nelson Cruz are "on hold," according to Chris Cotillo of MLB Daily Dish.
Philadelphia Phillies : Relief pitcher Chad Gaudin failed his physical and was released, according to Matt Gelb of the Philadelphia Inquirer.
Rays: The club is likely to sign free agent starting pitcher Erik Bedard , reports Marc Topkin of the Tampa Bay Times.
Cincinnati Reds : The team and starting pitcher Homer Bailey are still discussing a long-term contract extension, though general manager Walt Jocketty tells MLB.com there "has not been a lot of progress."
Show Comments
Hide Comments