All you need to know: MLB rumors and news roundup for March 6
Thursday's full hot stove recap -- transactions, rumors and injury updates -- can be found within.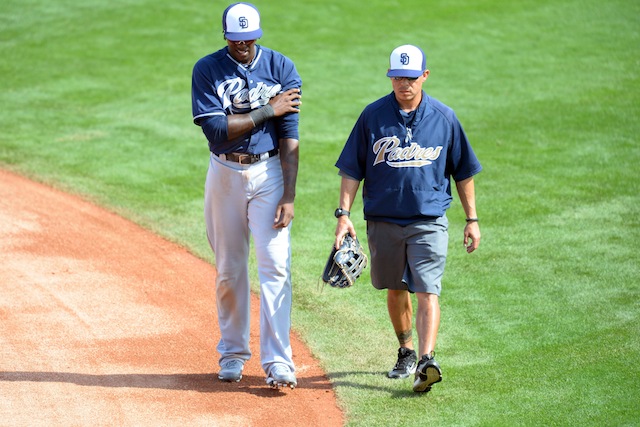 MORE: Spring Training | FA tracker: position players | FA tracker: pitchers
On the MLB hot stove front, here's all that's worth knowing for Thursday, March 6 ... 
JON HEYMAN
- CBSSports.com's insider has the latest on free agent right-hander Ervin Santana and the five or so teams still in touch with him -- a group that includes the Baltimore Orioles . Elsewhere, Heyman reports that the St. Louis Cardinals and 3B Matt Carpenter are closing in on a long-term contract extension. Heyman also reports that Los Angeles Dodgers outfielder Yasiel Puig has changed agents. On Twitter, Heyman passed along word that the Chicago White Sox are getting calls on Alejandro De Aza and Dayan Viciedo , who are battling for the left field job. 
RUMORS, SPECULATION, ETC.
- Ervin Santana: Speaking of Santana, Ken Rosenthal of FoxSports.com reports that he may be looking to change agents.
- Toronto Blue Jays : RHP Drew Hutchison seems a good bet to make the Jays' rotation to start the season. (Gregor Chisolm via Twitter)
- Dodgers: The Dodgers will likely start Clayton Kershaw and Hyun-Jin Ryu against the Arizona Diamondbacks in the season-opening series in Australia.
- Minnesota Twins : The team is expected to have "informal" extension talks this week with the agent for INF Brian Dozier and RHP Kevin Correia . (Mike Berardino via Twitter)
INJURY UPDATES
- Los Angeles Angels : RHP Dane De La Rosa has left camp to undergo an MRI on his pitching arm. (Alden Gonzalez via Twitter)
- Diamondbacks: RHP Bronson Arroyo has a bulging disk in his back and will need to limit his activity for the next seven to 10 days. (Steve Gilbert, MLB.com)
- San Diego Padres : Contrary to expectations, CF Cameron Maybin won't require surgery on his ruptured left biceps tendon. Initially, Maybin was expected to miss up to three months. Now, though, he could return in less than two months. (Corey Brock, MLB.com)
- Philadelphia Phillies : Cole Hamels (shoulder) has suffered a setback and now likely won't be able to pitch until May.