All you need to know: MLB rumors, news roundup for Dec. 2
Two major trades and three multiyear free agent contracts headlined an action-packed Monday. Here is a recap of the day's hot stove news.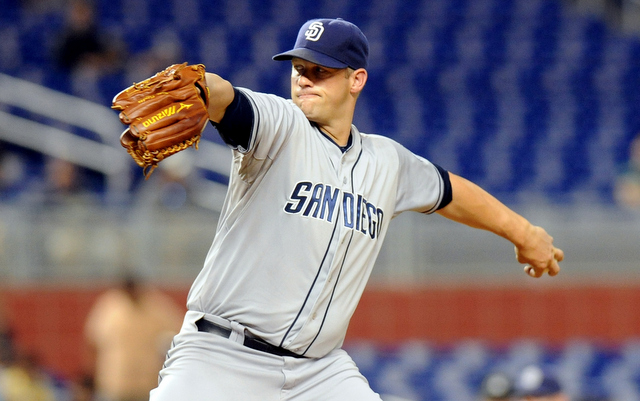 MORE: FA tracker: position players | FA tracker: pitchers
The long Thanksgiving weekend is officially a thing of the past. MLB teams made up for lost time on Monday thanks in part to the non-tender deadline. A total of 41 players were non-tendered before the midnight deadline and are now free agents. The full list is right here.
Aside from the non-tenders, Monday also featured two significant trades and a trio of two-year contracts handed out to free agents. Oh, and the usual assortment of rumors as well. Can't forget about those. Here is a recap of Monday's hot stove action:
TRADES
Oakland Athletics : Acquired RHP Jim Johnson from the Baltimore Orioles for 2B Jemile Weeks . Johnson will replace Grant Balfour , who is a free agent, as Oakland's closer.
Washington Nationals : Acquired RHP Doug Fister from the Detroit Tigers for UTIL Steve Lombardozzi , LHP Ian Krol and LHP Ronnie Ray. Washington now has the best rotation in baseball (on paper).
Pittsburgh Pirates : Acquired C Chris Stewart from the New York Yankees for a player to be named later. He'll back up Russell Martin like he did in 2012 with New York.
SIGNINGS
Athletics: Agreed to sign LHP Scott Kazmir to a two-year contract worth $22 million. He'll replace Bartolo Colon , who figures to get a more lucrative deal elsewhere.
Toronto Blue Jays : Agreed to a two-year contract with C Dioner Navarro . The deal will pay him $8 million total.
Chicago Cubs : Re-signed C George Kottaras to a one-year pact worth $1.075 million. (Jon Heyman)
Seattle Mariners : Agreed to a two-year deal worth $5.8 million with UTIL Willie Bloomquist . He spent parts of seven seasons in Seattle earlier in his career.
Orioles: Re-signed OF Nolan Reimold to a one-year contract worth $1.025 million. (Baltimore Sun)
San Diego Padres : Re-signed LHP Eric Stults to a one-year deal worth $2.75 million. (Fox Sports)
Tigers: Agreed to re-sign UTIL Don Kelly to a one-year, $1 million contract. (MLB.com)
RUMORS & SPECULATION
OF Jacoby Ellsbury : The market for Ellsbury is moving faster than expected. The Scott Boras client could have a deal worked out by the end of the Winter Meetings next week. (ESPN)
Miami Marlins : Recently made an offer to C Jarrod Saltalamacchia . Terms of the offer are unknown, but the Fish have some money to spend this winter. (Fox Sports)
New York Mets : GM Sandy Alderson recently met with OF Curtis Granderson . He is seeking a minimum of three years. (Fox Sports and New York Daily News)
Minnesota Twins : No longer pursuing C A.J. Pierzynski . They're seeking a starting catcher after deciding to move Joe Mauer to first base full-time starting in 2014. (St. Paul Pioneer Press)
Yankees: Made a one-year contract offer to RHP Hiroki Kuroda . They're trying to woo him away from retirement and a return to Japan.
Show Comments
Hide Comments