All you need to know: MLB rumors, news roundup for Feb. 19
A nine-figure contract extension and a bullpen session by a former Cy Young winner recovering from surgery headline Wednesday's news from around the league.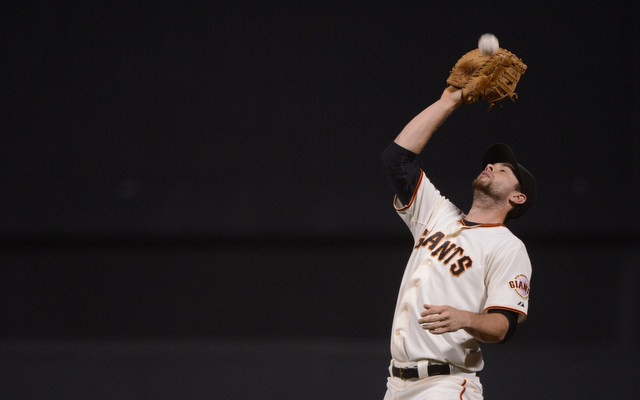 MORE: FA tracker: position players | FA tracker: pitchers
Grapefruit League and Cactus League games will begin in less than a week, meaning real live baseball is upon us. Here is a recap of Wednesday's baseball news, including transactions to injury updates.
EXTENSIONS
Atlanta Braves : Signed GM Frank Wren and manager Fredi Gonzalez to contracts beyond 2014.
Cincinnati Reds : Agreed to a six-year, $105 million contract with RHP Homer Bailey .
AVOIDED ARBITRATION
San Francisco Giants : Agreed to a one-year deal worth $2.9 million with 1B Brandon Belt . (Jon Heyman)
ROSTER CUTS
Baltimore Orioles : Designated RHP Liam Hendriks for assignment, the team announced. The move clears a 40-man roster spot for the recently signed RHP Ubaldo Jimenez .
RUMORS & SPECULATION
OF Josh Willingham : Said he is open to signing an extension and staying with the Minnesota Twins beyond 2014. (St. Paul Pioneer Press)
Toronto Blue Jays : Unlikely to sign a starting pitcher. They won't sign RHP Ervin Santana unless he "falls into their lap." (ESPN)
St. Louis Cardinals : Expected to make an offer to Cuban SS Aledmys Diaz, perhaps within the next 24 hours.
Orioles: Remain interested in 1B Ike Davis for their DH opening. (New York Post)
Texas Rangers : GM Jon Daniels said he has not ruled out re-signing OF Nelson Cruz . He would presumably fill their DH spot. (MLB.com)
INJURY UPDATES
Houston Astros : RHP Mark Appel could throw a bullpen session as soon as Thursday. He is recovering from an emergency appendectomy (Houston Chronicle) ... RHP Jesse Crain suffered a calf strain and will have an MRI. (MLB.com)
Milwaukee Brewers : 3B Aramis Ramirez had surgery to remove a non-malignant polyp from his colon. He will be a few days behind schedule in spring training. (MLB.com)
Los Angeles Dodgers : Both RHP Brandon League and RHP Zach Lee threw off a mound on Wednesday. Both guys are dealing with lat strains. (True Blue LA)
Cleveland Indians : OF Michael Bourn says his hamstring is 100 percent. He had surgery back in October. (Cleveland Plain-Dealer)
Orioles: DH Henry Urrutia missed Wednesday's workout due to a stomach problem (Baltimore Sun) ... RHP Miguel Gonzalez threw a 25-pitch bullpen session. He's been dealing with a back problem. (MASN Sports)
San Diego Padres : LHP Cory Luebke had Tommy John surgery on Wednesday. It is his second such procedure in less than two years. (San Diego Union-Tribune)
Pittsburgh Pirates : OF Travis Snider took batting practice on Wednesday. He missed some time after cutting his finger in a household incident. (Pittsburgh Tribune-Review)
Rangers: LHP Matt Harrison will see a specialist for his problematic neck on Thursday. The expectation is that he will be cleared to resume workouts. (Dallas Morning News)
Detroit Tigers : RHP Justin Verlander threw 54 pitches in a bullpen session. He is coming back following core muscle surgery. (MLB.com)
Chicago White Sox : RHP Nate Jones resumed working out on Wednesday but is still limited. He is dealing with a glute problem. (CSN Chicago)
Show Comments
Hide Comments