All you need to know: MLB rumors, news roundup for Feb. 26
The retirement of a former All-Star right-hander headlines Wednesday's baseball news as exhibition games started across Arizona and Florida.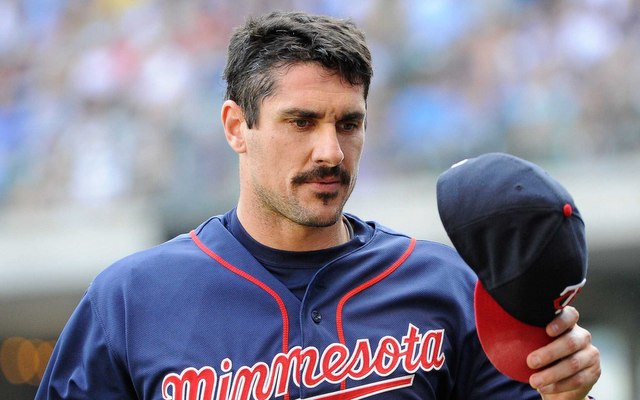 MORE: Spring Training | Scoreboard | FA tracker: position players | FA tracker: pitchers
Grapefruit League and Cactus League play officially opened on Wednesday in Florida and Arizona, respectively, meaning baseball is officially back. We'll have to wait a few weeks for meaningful games but spring training games are fun in their own little way.
Wednesday's on-field action was highlighted by Josh Reddick 's ridiculous catch and Jose Bautista 's monster home run. Click the scoreboard link above for all the day's box scores. Here's a recap of the rest of Wednesday's baseball news.
RETIREMENTS
RHP Carl Pavano : Announced his retirement at age 38. He did not pitch at all last season after suffering a ruptured spleen in a freak accident.
SIGNINGS
Los Angeles Angels : Signed OF Mike Trout to a one-year, $1 million contract. That is a record salary for a player in his pre-arbitration years.
WAIVER CLAIMS
Chicago White Sox : Claimed RHP Maikel Cleto off waivers from the Kansas City Royals , the team announced.
ROSTER CUTS
White Sox: Designated IF Jake Elmore for assignment, the club announced. The move clears a 40-man roster spot for Cleto.
RUMORS & SPECULATION
RHP Juan Rincon: Will soon work out for teams. He has not pitched in MLB since 2010. (Jon Heyman)
LHP Johan Santana : The New York Yankees , Philadelphia Phillies , Toronto Blue Jays , Pittsburgh Pirates , Texas Rangers , Minnesota Twins and Baltimore Orioles watched his recent workout, during which he topped out at 81 mph. (Jon Heyman)
Orioles: "Nothing is imminent" with free agent LHP Joe Saunders , who pitched for the team in the second half of 2012. (MLB.com)
New York Mets : Not having any active trade talks regarding 1B Ike Davis (ESPN New York) ... Intend to scout Seattle Mariners IF Nick Franklin during spring training as they consider a trade. (New York Daily News)
Washington Nationals : Had interest in free agent LHP Oliver Perez as recently as one week ago. (MLB.com)
Boston Red Sox : Not having active talks with free agent SS Stephen Drew . The team appears to be prepared to move on without him. (WEEI.com)
White Sox: GM Rick Hahn said the team continues to explore trade possibilities. He feels they have some middle infield depth to spare. (CSN Chicago)
Yankees: Will monitor what the Milwaukee Brewers do with 2B Rickie Weeks this spring. They're looking for infield help. (New York Post)
INJURIES
Angels: OF Josh Hamilton will be sidelined for at least two weeks with a strained left calf.
Houston Astros : RHP Asher Wojciechowski will receive a platelet-rich plasma injection in his right lat muscle. It's unclear how long he will be out (Houston Chronicle) ... LHP Raul Valdes threw a bullpen session for the first time since having offseason knee surgery. (Houston Chronicle)
Oakland Athletics : RHP Ryan Cook will throw off flat ground on Thursday and Saturday before progressing to a mound. He's been dealing with a shoulder problem. (Bay Area News Group)
Atlanta Braves : OF Justin Upton was scratched from Wednesday's lineup due to soreness in his side and is day-to-day. (680 The Fan)
St. Louis Cardinals : Dr. James Andrews diagnosed LHP Jaime Garcia with shoulder inflammation but no structural damage.
Chicago Cubs : RHP Jake Arrieta threw off flat ground. He's been delayed by shoulder tightness. (MLB.com)
Los Angeles Dodgers : RHP Brandon League felt no discomfort during a live batting practice session. He's been sidelined by a minor lat strain. (MLB.com)
San Francisco Giants : LHP David Huff was scratched from Friday's scheduled start due to shoulder discomfort. (San Francisco Chronicle)
Mariners: RHP Taijuan Walker played long toss. He had some shoulder soreness earlier in camp and is behind schedule (MLB.com) ... RHP Brandon Maurer was slated to throw on flat ground on Wednesday after missing some time with a back problem. (MLB.com)
Miami Marlins : Manager Mike Redmond plans to ease IF Rafael Furcal back into game action. He missed all of last season due to Tommy John surgery (Miami Herald) ... RHP Henderson Alvarez has a right shin infection and will miss a few days. (Miami Sun Sentinel)
Mets: LHP Jonathon Niese is heading to New York for an MRI on his pitching shoulder ... OF Eric Young Jr. (side) and RHP Bartolo Colon (calf) are both day-to-day with tightness (Newark Star-Ledger) ... Prospect OF Matt den Dekker has a stomach issue and will miss a few days. (ESPN New York)
Orioles: 3B Manny Machado is tentatively scheduled to have a follow up exam with Dr. Neal ElAttrache on March 18. He had knee surgery over the winter (MLB.com) ... OF Quintin Berry will remain out of action until Monday "at the latest" due to back spasms (MASN Sports) ... IF Alexi Casilla still has soreness in his hamstring and will miss a few more days. (Baltimore Sun)
Phillies: LHP Cole Hamels threw his first bullpen session of the spring. He'd been sidelined with shoulder tendinitis. (MLB.com)
Pirates: 1B Travis Ishikawa will rest a few days due to right leg tightness. (Pittsburgh Post-Gazette)
Rangers: IF Jurickson Profar has started throwing. He's been dealing with a shoulder problem. (Dallas Morning News)
Tampa Bay Rays : 2B/OF Ben Zobrist took ground balls and batting practice but will still miss the first few spring games with a minor back issues. (Tampa Tribune)
Royals: Top prospect RHP Kyle Zimmer started his throwing program on Wednesday by playing catch at 45 feet. He was shut down last August with shoulder soreness and has been brought along slowly in camp. (Kansas City Star)
White Sox: RHP Nate Jones threw off a bullpen mound on Wednesday. He's been dealing with a glute problem. (CSN Chicago)
Yankees: OF Alfonso Soriano is scheduled to make his spring training debut on Sunday. He's been out with the flu (MLB.com) ... 1B Mark Teixeira is on track to make his spring debut late next week after having season-ending wrist surgery last year (Newark Star-Ledger) ... IF Eduardo Nunez was scratched from Wednesday's lineup due to an illness. (MLB.com)
Show Comments
Hide Comments
Our Latest Stories
The franchise catcher is in his walk year, and two sides appear open to a contract extensi...

The good news is that an MRI showed no structural damage
He was re-assigned to minor league camp on Sunday

Brian Havrilla has done important work

Young Brody Chernoff, son of Mike Chernoff, was a guest in the Indians' radio booth recently,...