All you need to know: MLB rumors, news roundup for Feb. 27
Thursday's daily recap includes injury updates on Bartolo Colon, Zack Greinke, Ryan Cook, Jonathon Niese, Hisashi Iwakuma, Shane Victorino and more.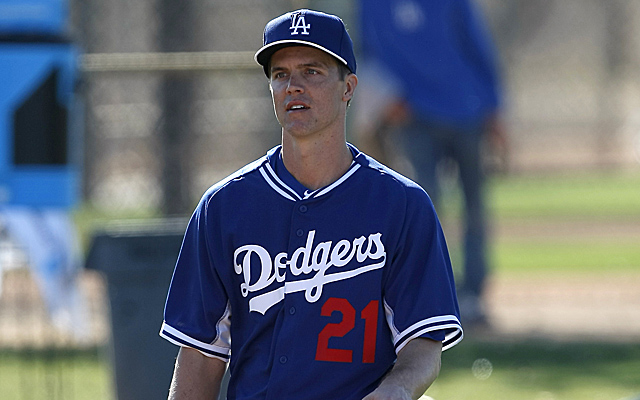 MORE: Spring Training | Scoreboard | FA tracker: position players | FA tracker: pitchers
Both Robinson Cano (single) and Ryan Braun (home run) picked up base hits in their first at-bats of spring training on Thursday, headlining the on-field action. Derek Jeter also played in his first spring game after missing most of last season with a series of leg injuries. He came through the day fine and will give it another go tomorrow or the next day.
Click the scoreboard link above for the day's box scores. Here is a recap of Thursday's baseball news, from rumors to injury updates and everything in between.
TRADES
Oakland Athletics : Acquired IF Jake Elmore from the Chicago White Sox for cash considerations, the team announced.
ROSTER CUTS
Athletics: Designated IF Andy Parrino for assignment, the team announced. The move clears a 40-man roster spot for Elmore.
RUMORS & SPECULATION
Arizona Diamondbacks : They are targeting young catching help in any trade talks about their infield depth. They have not had any recent dialogue with the New York Mets . (Newsday)
San Francisco Giants : President and CEO Larry Baer confirmed the team has not yet had any long-term contract extension talks with 3B Pablo Sandoval . He is due to become a free agent after this coming season. (San Francisco Chronicle)
Cleveland Indians : Continue to discuss a long-term extension with RHP Justin Masterson . He can become a free agent after the 2014 season.
Texas Rangers : Had LHP Joe Saunders in camp for a workout. No deal has been reached and it's unclear if the team is even interested in signing him at this point. (Dallas Morning News)
INJURY UPDATES
Athletics: RHP Ryan Cook threw from flat ground without a problem. He's been dealing with shoulder inflammation (MLB.com) ... DH John Jaso has a bruised elbow after being hit by a pitch earlier this week. He'll be held out of games for a few days (San Francisco Chronicle) ... OF Craig Gentry will miss another 10 days due to a lower back strain. (San Francisco Chronicle)
Atlanta Braves : C Gerald Laird left Thursday's game with a lower back strain and is day-to-day, the team announced.
Chicago Cubs : RHP Kyuji Fujikawa came through a bullpen session fine. He is rehabbing from Tommy John surgery. (Chicago Tribune)
Diamondbacks: Manager Kirk Gibson confirmed OF Cody Ross will make his spring debut on March 13th. He is returning from a dislocated hip. (Arizona Republic)
Los Angeles Dodgers : RHP Zack Greinke exited his start after only three pitches with mild right calf strain. It was a precautionary move (SportsNet LA) ... OF Carl Crawford has a tight quad and will be held out of games for a few days (Orange County Register) ... C A.J. Ellis was sent home Thursday with the flu. (Los Angeles Times)
Seattle Mariners : RHP Hisashi Iwakuma will be re-evaluated on Friday. He is currently sidelined with a finger strain (MLB.com) ... 1B/OF Corey Hart will make his spring debut on Friday. He missed all of last season due to multiple knee surgeries. (MLB.com)
Mets: An MRI on LHP Jonathon Niese 's shoulder showed no structural damage. He'll be able to resume throwing this weekend ... RHP Bartolo Colon will throw his bullpen session as scheduled on Friday. He is nursing a tight calf (MLB.com) ... OF Eric Young Jr. was able to hit off a tee as he deals with a tight side. (ESPN New York)
Baltimore Orioles : RHP Mike Belfiore has a hairline fracture in his left hand, but it is expected he will be able to play through it. He suffered the break during a drill earlier this week (Baltimore Sun) ... OF Quintin Berry felt fine while swinging a bat and should play in a game over the weekend after dealing with back spasms. (MASN Sports)
Philadelphia Phillies : RHP Mike Adams threw his first bullpen session of the spring and felt great. He is coming back from shoulder surgery (MLB.com) ... RHP Ethan Martin exited Thursday's game with shoulder discomfort. (MLB.com)
Rangers: LHP Matt Harrison played catch at 120 feet as he works his way back from a back issue. (ESPN Dallas)
Boston Red Sox : OF Daniel Nava could play in Friday's game. He has been nursing a sore neck in recent days (MLB.com) ... OF Shane Victorino has been held out of workouts due to concerns about his core strength. (Boston Herald)
Colorado Rockies : Prospect RHP Jayson Aquino was taken to the hospital for concussion tests after being hit in the head by a line drive during an intrasquad game. There has been no update on his status. (MLB.com)
Detroit Tigers : RHP Eduardo Sanchez has a stress fracture in his elbow and will miss an extended period of time, the team announced.
Minnesota Twins : C Josmil Pinto was cleared to play in an intrasquad game. He's been dealing with a sore back. (MLB.com)
MISCELLANY
Houston Astros : 1B Japhet Amador is expected to arrive in camp either Thursday night or early Friday morning. His pregnant wife had some health problems. (Houston Chronicle)
Milwaukee Brewers : RHP Francisco Rodriguez will report to camp on Friday. He'd been delayed by a visa issue. (Milwaukee Journal Sentinel)
Show Comments
Hide Comments