All you need to know: MLB rumors, news roundup for Feb. 8
One free agent starter came off the board on Saturday, though it wasn't one of the big names still available. Here's a recap of the day's hot stove action.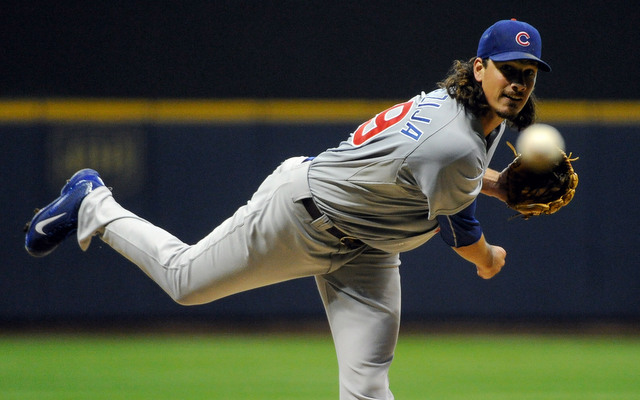 MORE: FA tracker: position players | FA tracker: pitchers
Spring training camps are starting to open across Florida and Arizona (well, only Arizona at this point), yet the two big free agent starters remain unsigned. Ubaldo Jimenez and Ervin Santana will sign with new teams soon, right? I think so. Here's a recap of Saturday's hot stove news.
FREE AGENT SIGNINGS
Los Angeles Dodgers : Agreed to a one-year deal worth $1.5 million with LHP Paul Maholm . The contract also includes substantial incentives.
AVOIDED ARBITRATION
Chicago Cubs : Signed RHP Jeff Samardzija to a one-year contract worth $5.345 million. (Jon Heyman)
ARBITRATION RULINGS
Cleveland Indians : Beat RHP Vinnie Pestano , who will earn $975,000 in 2014.
San Diego Padres : Lost to RHP Andrew Cashner , who will earn $2.4 million in 2014.
RUMORS & SPECULATION
LHP Bill Bray: Wants to continue his career but may wait until midseason to sign. The reliever is currently coming back after missing most of 2013 due to injury. (St. Paul Pioneer Press)
LHP Johan Santana : Planning to throw for interested teams at some point soon. The Minnesota Twins will be there when he does. Santana is recovering from his second torn shoulder capsule. (1500 ESPN)
Oakland Athletics : GM Billy Beane said the team is done making significant moves this winter. (MLB.com)
Seattle Mariners : It is "only a matter of time" before they sign OF Nelson Cruz . (Tacoma News Tribune)
Baltimore Orioles : Remain focused on adding a top of the rotation starter. There aren't many (if any) still available, however. (MASN Sports)
Cincinnati Reds : Still far apart during contract extension talks with RHP Homer Bailey .
Boston Red Sox : Continue to "check in on" RHP Joel Hanrahan , who is rehabbing from Tommy John surgery. He will throw for teams in March (WEEI.com) ... Watched RHP Ryan Madson during his workout last week. He is trying to come back after missing two years with elbow problems. (Boston Globe)