All you need to know: MLB rumors, news roundup for Jan. 9
Thursday's hot stove recap can be found within.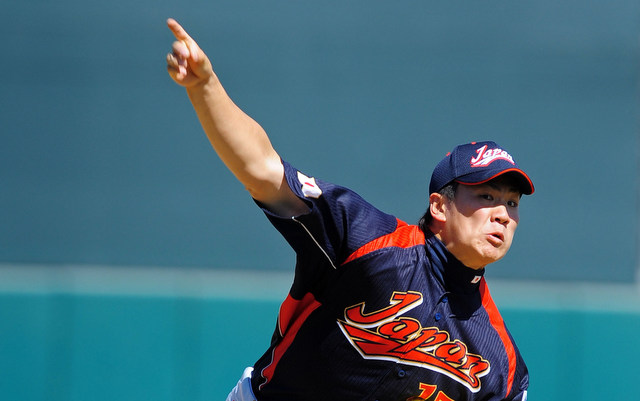 MORE: FA tracker: position players | FA tracker: pitchers
On the MLB hot stove front, here's all that's worth knowing for Thursday, Jan. 9 ... 
SIGNINGS & AGREEMENTS
- Washington Nationals : Have signed INF Jamey Carroll to a minor-league contract.
- Tampa Bay Rays : Have signed INF Jayson Nix to a minor-league contract. 
RUMORS, SPECULATION, ETC. 
- Masahiro Tanaka: CBSSports.com's Jon Heyman reports that the coveted Japanese right-hander was in Los Angeles Thursday for a physical and to meet with certain interested teams. Heyman writes that the New York Yankees , Chicago Cubs , Toronto Blue Jays , Chicago White Sox , Los Angeles Dodgers and Arizona Diamondbacks . As well, the Seattle Mariners , Los Angeles Angels , Minnesota Twins and Texas Rangers may have some interest in the 25-year-old ace ... Elsewhere, the Boston Red Sox , tweets Alex Speier, have been in touch with Tanaka's agent, Casey Close, but have not yet met with him ... As for the Houston Astros , according to Evan Drellich they're not likely to sign Tanaka. 
- Mariners: Hall of Fame manager Tony La Russa is reportedly a candidate to become the next president of the Mariners. 
- New York Mets : Regarding those ubiquitous Ike Davis trade rumors, GM Sandy Alderson tells MLB.com's Anthony DiComo that he's "not that actively engaged" in trying to move Davis right now. 
- Baltimore Orioles : Buck Showalter says he still expects 3B Manny Machado (knee) to be ready by opening day. (Roch Kubatko via Twitter)
- Pittsburgh Pirates : Pitching coach Ray Searage says he's preparing for the 2014 season as though RHP A.J. Burnett is going to retire. 
- Red Sox: Alex Speier tweets that although GM Ben Cherington has been in regular contact with free agent SS Stephen Drew , they haven't spoken since the holidays. 
- Detroit Tigers : RHP Justin Verlander underwent core muscle surgery on Thursday, but he's expected to be recovered in time to participate in spring training.
- Yankees: Alex Rodriguez , who's currently waiting for an arbitrator to rule on his 211-game Biogenesis-related suspension, may seek an injunction if the final verdict isn't to his liking ... Andy McCullough of the Newark Star-Ledger writes that the Yankees may have some interest in rehabbing lefty Johan Santana . 
Show Comments
Hide Comments