All you need to know: MLB rumors, news roundup for March 7
Some Ervin Santana developments and a bunch of injury updates headline Friday's baseball news.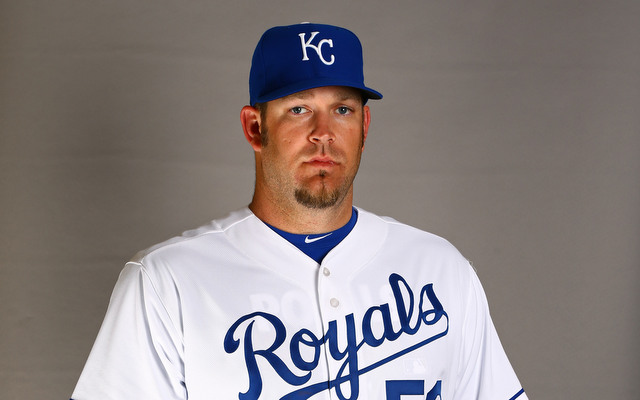 MORE: Spring Training | Scoreboard | FA tracker: position players | FA tracker: pitchers
There was a bit of movement on the Ervin Santana front on Friday, though he is still not close to signing with a new team. Have to think that'll happen soon though. Here is recap of Friday's baseball news.
JON HEYMAN
RHP Kyle Lohse : Criticized the qualifying offer system.
Los Angeles Angels : Still discussing a six-year contract extension with OF Mike Trout .
Chicago Cubs : Prospect 3B Kris Bryant is wowing onlookers in camp.
Arizona Diamondbacks : Agreed to a two-year contract worth $4.25 million with LHP Oliver Perez .
Chicago White Sox : Manager Robin Ventura is a perfect fit for the club.
SIGNINGS
Toronto Blue Jays : Signed RHP Radhames Liz to a minor league contract. He has spent the last three seasons pitching in Korea. (Baseball America)
Detroit Tigers : Signed LHP Wil Ledezma to a minor league deal. He spent last season in Japan. (Baseball America)
ROSTER CUTS
Kansas City Royals : Released RHP Brad Penny . He broke his non-pitching hand punching a wall earlier this week.
WAIVER CLAIMS
San Diego Padres : Claimed OF Alex Castellanos off waivers from the Texas Rangers , the team announced. Texas designated him for assignment earlier this week to clear a 40-man roster spot for LHP Joe Saunders .
RUMORS & SPECULATION
RHP Ervin Santana: Now willing to take a one-year contract, preferably with a good offensive club. He wants to sign soon.
C Russell Martin : Said he is open to a contract extension with the Pittsburgh Pirates , though the two sides have not yet talked. (Pittsburgh Tribune-Review)
Philadelphia Phillies : Depending on who you ask, they either are (Boston Globe) or are not (Philadelphia Inquirer) interested in Santana.
Royals: They are "moving forward" without Santana, according to GM Dayton Moore. (Kansas City Star)
INJURY UPDATES
Angels: An MRI showed RHP Dane De La Rosa has a forearm strain. It's unclear if he will be ready in time for opening day. (MLB.com)
Houston Astros : OF Dexter Fowler (neck) will return to the lineup on Saturday. (MLB.com)
Oakland Athletics : C Derek Norris was scratched from Friday's game with back spasms and he may sit Saturday as well. (Bay Area News Group)
Blue Jays: OF Colby Rasmus (neck) received a cortisone shot and should return to game action in a few days (Sportsnet.ca) ... LHP J.A. Happ (sore back) will be given a few days to rest. (Toronto Sun)
Milwaukee Brewers : 3B Aramis Ramirez (colon) will make his spring debut on Saturday after having surgery to remove a non-malignant polyp a few weeks ago. (MLB.com)
St. Louis Cardinals : RHP Jason Motte (Tommy John surgery) will ramp up his throwing program on Saturday, though there is no timetable for him to get into a game. (St. Louis Post-Dispatch)
Cubs: SS Starlin Castro (hamstring) doesn't "feel any hurt or tightness" and is on track to return to games next week. (MLB.com)
Diamondbacks: 1B Paul Goldschmidt (leg stiffness) is expected to return to the lineup on Saturday after missing two games (Arizona Republic) ... RHP Bronson Arroyo (bulging disc) has been given an epidural and will not travel to Australia for their season-opening series against the Dodgers later this month (Fox Sports Arizona) ... OF Cody Ross (hip surgery) could begin sliding drills soon. (Arizona Republic)
Los Angeles Dodgers : RHP Zack Greinke (calf) will throw live batting practice on Saturday and could return to game action next week. (True Blue LA)
San Francisco Giants : 2B Marco Scutaro (back) had his spring debut pushed back again. The team may start looking at backup plans if he can't play in games by late next week.
Cleveland Indians : UTIL Ryan Raburn has been diagnosed with a left knee contusion and is day-to-day after crashing into the outfield wall (MLB.com) ... 1B Bryan LaHair (wrist debridement) has been cleared to begin swinging a bat, though it is unclear if he will be ready in time for opening day. (Cleveland Plain-Dealer)
Seattle Mariners : 2B Robinson Cano will miss a few days following a root canal. (MLB.com)
New York Mets : Both RHP Bobby Parnell (quad) and RHP Bartolo Colon (calf) will make their spring debuts on Monday. (ESPN New York)
Washington Nationals : RHP Doug Fister was scratched from Friday's start with elbow inflammation, the team announced. An MRI came back clean and it is not expected to be a long-term issue ... RHP Ross Ohlendorf (back spasms) reported improvement on Friday, but there is no timetable for his return to game action. (MASN Sports)
Baltimore Orioles : RHP Miguel Gonzalez was diagnosed with a left tibia contusion and is day-to-day after being hit by a comebacker. (Baltimore Sun)
Padres: RHP Huston Street (groin) could throw a bullpen session as soon as Saturday. (San Diego Union-Tribune)
Rangers: LHP Matt Harrison (back) is likely to open the season on the DL. (Dallas Morning News)
Boston Red Sox : RHP Jake Peavy (finger) will throw in the bullpen on Saturday, and if that goes well, he'll make his spring debut next week (Providence Journal) ... OF Shane Victorino (core) is expected to make his spring debut next week. (Boston Globe)
Colorado Rockies : 1B Justin Morneau (neck) took batting practice and is moving closer to game action. (Denver Post)
Royals: RHP Luke Hochevar will miss the season following Tommy John surgery ... 2B Omar Infante (shoulder) feels "better" and could return to the field by Monday. (Kansas City Star)
Tigers: SS Jose Iglesias (shin splints) took batting practice, but there is still no date for his return to game action (MLB.com) ... RHP Bruce Rondon was scratched from Friday's appearance due to a back issue and is day-to-day. (MLive.com)
New York Yankees : SS Brendan Ryan is "nicked up" with a back/oblique problem and will be out until the middle of next week. (Newsday)
MISCELLANY
Dodgers: OF Yasiel Puig is currently away from the team attending to a personal matter. It's a planned and excused absence. He is expected to return to the lineup on Sunday. (True Blue LA)
Dodgers & Diamondbacks: The new expanded replay system will not be available for their season-opening two-game series in Australia later this month.
White Sox: RHP Ronald Belisario will soon report to camp after getting his visa issue resolved. (Chicago Sun-Times)
Show Comments
Hide Comments
Our Latest Stories
It was earlier reported Trump was in talks to do so, but he declined the invitation

An Auburn softball player did not appreciate how UF coach Tim Walton appeared to shove her

Boston will be looking to repeat as AL East champs but make a deeper run in the postseason
Kazmir will begin the season on the DL

Tebow struck out twice against Scherzer and got a taste of an elite fastball

It seems unlikely Las Vegas will be atop MLB's list of destinations whenever they expand or...