All you need to know: MLB rumors, news roundup for March 9
An update on the injured shoulder of a former top prospect headlines Sunday's baseball news.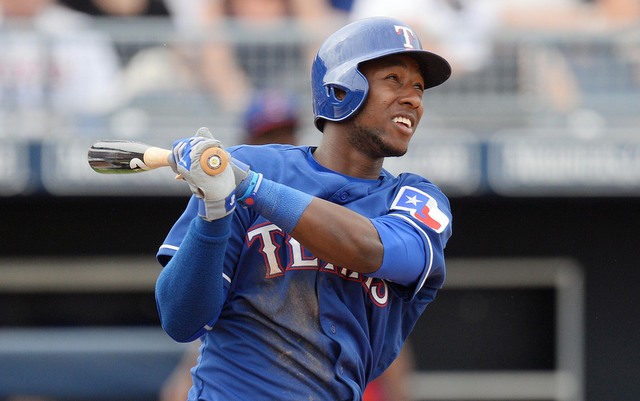 MORE: Spring Training | Scoreboard | FA tracker: hitters | FA tracker: pitchers
Three weeks from now, the domestic portion of the 2014 regular season will get underway. The Los Angeles Dodgers and Arizona Diamondbacks will play two games in Australia first. Here is a recap of Sunday's baseball news.
JON HEYMAN
Commissioner Bud Selig: No indications he will change his mind about retiring after the season.
3B Chase Headley : San Diego Padres made a long-term extension offer, but the two sides are not on the same page.
RHP Ervin Santana : Minnesota Twins made a three-year contract offer. The Baltimore Orioles and Toronto Blue Jays remain in the mix.
Cleveland Indians : Have not yet made RHP Justin Masterson an offer after he expressed a willingness to sign a short-term extension.
SIGNINGS & AGREEMENTS
St. Louis Cardinals : Agreed to sign Cuban IF Aledmys Diaz, the team announced. It is reportedly a four-year deal.
RUMORS & SPECULATION
OF Dayan Viciedo : The Chicago White Sox and Seattle Mariners are reportedly discussing a trade involving Viciedo.
Orioles: GM Dan Duquette said he still has enough payroll flexibility to improve the team. Their interest in Santana is evidence. (MLB.com)
Detroit Tigers : GM Dave Dombrowski shot down a rumor suggesting the team was listening to offers for RHP Rick Porcello . (Detroit Free Press)
Twins: Have some interest in White Sox outfielder Alejandro De Aza . (Boston Globe)
INJURY UPDATES
Los Angeles Angels : 3B David Freese was scratched from Sunday's game with a blood blister under his foot. He is hoping to play Monday. (Los Angeles Times)
Oakland Athletics : C Derek Norris (back spasms) could return to the lineup on Tuesday, according to manager Bob Melvin (San Francisco Chronicle) ... C Dusty Brown had arthroscopc shoulder surgery on Friday and will be out six weeks. (San Francisco Chronicle)
Atlanta Braves : RHP Kris Medlen left Sunday's start with a right forearm strain. He will be examined further on Monday.
Cardinals: LHP Jaime Garcia (shoulder) is "very excited" about the way he feels, though he will spend the next two days getting looked at by Dr. James Andrews (St. Louis Post-Dispatch) ... Top prospect OF Oscar Taveras will be shut down for a few days with a hamstring problem. (MLB.com)
Chicago Cubs : OF Ryan Sweeney is day-to-day after leaving Sunday's game with a sore right knee. (CBS Chicago)
Diamondbacks: C Bronson Arroyo (back) feels better after receiving an epidural and is hoping to return to game action this coming Friday. (Arizona Republic)
San Francisco Giants : OF Hunter Pence (shoulder) is expected to return to game action on Monday (San Francisco Chronicle) ... OF Michael Morse is nursing a sore calf but should be ready in a day or two (San Francisco Chronicle)
Indians: UTIL Ryan Raburn (knee contusion) could return to game action on Monday (MLB.com) ... RHP Matt Capps (shoulder) will resume playing catch on Monday. (Cleveland Plain-Dealer)
New York Mets : LHP Jonathon Niese (shoulder) will make his spring debut on Tuesday (ESPN New York) ... 2B Daniel Murphy (shin) is day-to-day after getting banged up on a slide. (ESPN New York)
Washington Nationals : Manager Matt Williams said the inflammation in RHP Doug Fister 's elbow is "starting to get out of there." (MASN Sports)
Orioles: 3B Manny Machado (knee surgery) will perform some sliding drills this week before having another checkup (MLB.com) ... RHP Miguel Gonzalez (leg contusion) is still sore after being hit by a comebacker and could be scratched from Tuesday's game. (Baltimore Sun)
Padres: C Yasmani Grandal (knee surgery) felt good after catching three innings in a simulated game. (MLB.com)
Texas Rangers : 2B Jurickson Profar (shoulder) could begin playing the field this coming week. (Dallas Morning News)
Cincinnati Reds : RHP Mat Latos (knee) will not be ready for opening day, but he could be ready to make a start during the first week of the season. (Cincinnati Enquirer)
Boston Red Sox : RHP Jake Peavy (finger) will make his spring debut on Thursday  ... LHP Craig Breslow (sore shoulder) has yet to throw off a mound in camp and is not close to game action. (Boston Herald)
Rockies: UTIL Jordan Pacheco (shoulder) has been cleared to resume hitting but is not yet ready to play games ... LHP Boone Logan (elbow surgery) threw a bullpen session. (Denver Post)
Tigers: Manager Brad Ausmus said the team "will have to make a decision" soon about SS Jose Iglesias (shin splits), who may not be ready in time for opening day. (Detroit News)
Twins: SS Pedro Florimon (appendectomy) hopes to make his spring debut within a week (Minneapolis Star-Tribune) ... OF Oswaldo Arcia (stomach virus) took batting practice and is expected to return to the lineup on Tuesday. (St. Paul Pioneer Press)
White Sox: LHP Jose Quintana (shin contusion) is still sore after being hit by a line drive on Saturday. (MLB.com)
New York Yankees : SS Brendan Ryan (oblique) is hopeful he can return to game action on Wednesday. (YES Network)
MISCELLANY
Diamondbacks: RHP Archie Bradley will travel with the team to Australia to start an exhibition game later this month. (MLB.com)
Dodgers: Officially named LHP Clayton Kershaw and LHP Hyun-Jin Ryu the starters for their season-opening series against the Diamondbacks in Australia.
Orioles: RHP Suk-Min Yoon is hoping to arrive in camp later this coming week after securing his work visa. (Baltimore Sun)
Rockies: Manager Walt Weiss announced LHP Jorge De La Rosa will be the team's opening day starter. (Denver Post)
Show Comments
Hide Comments