Allen Craig will be on World Series roster, will DH in Games 1 and 2
The Cardinals will welcome Allen Craig back into the lineup for the World Series. He'll be in the lineup at DH for Games 1 and 2.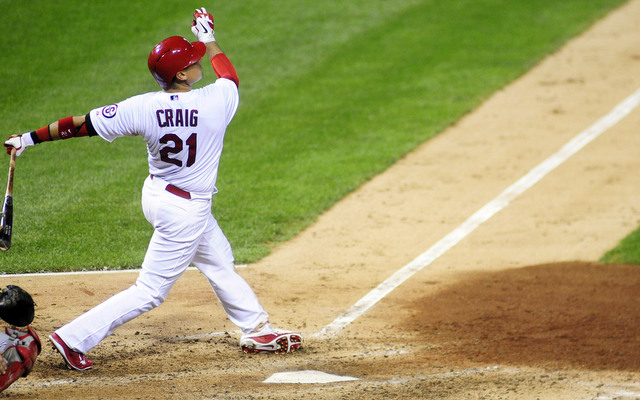 Cardinals manager Mike Matheny announced on Tuesday that Allen Craig will be on the team's active World Series roster. He will serve as the DH during Games 1 and 2 in Boston.
Craig, 29, has missed roughly six weeks with a foot injury. He will be re-evaluated when the series shifts to St. Louis and there's a chance he'll be able to play first base in Games 3 and 4 and, if necessary, Game 5. "I'm hopeful," said GM John Mozeliak.
"I think it fits well for the situation," said Craig when asked about serving as the DH. He admitted he has not yet started taking ground balls at first base, however."I'm hoping to be out there as much as I can."
In 134 games this season, Craig, hit .315/.373/.457 (131 OPS+) with 13 home runs and 97 RBI. He hurt his foot rounding first base late in the season and has not played since. Craig has been taking batting practice and running in recent days.
Matt Adams, who hit .284/.335/.503 (131 OPS+) this summer, has played first base during Craig's absence.
Show Comments
Hide Comments