American League East All-Star team
With the All-Star Game front and center this week, let's have some more fun. It's time for divisional All-Star teams. We'll get both East divisions here on the Fourth of July, with the Centrals coming Thursday and the Wests coming Friday. Here is the AL East.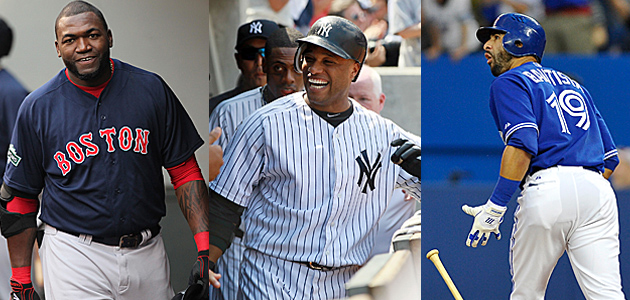 With the All-Star Game front and center this week, let's have some more fun. It's time for divisional All-Star teams. We'll get both East divisions here on the Fourth of July, with the Centrals coming Thursday and the Wests coming Friday.
One thing to note: Don't get into that game of counting players from each team and acting like that means we think the team with the most is the best. Be smarter than that. A team is the sum of all its parts and we haven't even done a full 25-man roster here. The New York Yankees are obviously the best team in the division, but that doesn't mean they'll have the most players in these selected positions.
Catcher - Matt Wieters , Baltimore Orioles . Wieters and Jarrod Saltalamacchia are having relatively similar seasons offensively, so Wieters' defensive prowess gets him the nod here. There are few better in the game behind the plate, and it shows when Wieters continues to make a bunch of average-ish pitchers perform well.
First base - Edwin Encarnacion , Toronto Blue Jays . Coming into the season, the prediction would have been a decision between Mark Teixeira and Adrian Gonzalez here. What a year for Encarnacion, who is hitting .296/.379/.570 with 22 homers, 56 RBI and 51 runs. He has more homers than Teixeira and Gonzalez combined.
Full All-Star Game coverage
Second base - Robinson Cano , Yankees. Easiest selection on the board (other than DH), despite having Ben Zobrist and Dustin Pedroia in the division. Cano is just that good (while Pedroia has been injured and disappointing).
Shortstop - Derek Jeter , Yankees. The Captain is hitting .301/.351/.409 with seven homers and 43 runs scored. Advanced defensive metrics treat him very poorly, but there are obvious limitations in those (like Alfonso Soriano being the second-best left field defender in baseball?). 
Third base - Brett Lawrie , Blue Jays. Will Middlebrooks has been huge for the Boston Red Sox and Alex Rodriguez still brings the power, but Lawrie has been getting it done in every facet for the whole season. He's hitting .294/.339/.435 with eight homers, 33 RBI, 51 runs, 11 stolen bases and excellent defense.
Right field - Jose Bautista , Blue Jays. He's leading the majors in home runs again, with 27. Bautista also sports a .910 OPS with 57 runs and 64 RBI. This choice was almost as easy as Cano. 
Center field - Adam Jones , Orioles. And now the toughest choice on the board. Curtis Granderson has better power, with 23 homers and 48 RBI. Of course, Jones has 19 homers, 43 RBI and a better slugging percentage. Jones also has Granderson by 54 points in batting average, though Granderson is three points better in on-base percentage. Jones has five more stolen bases and strikes out less. He's also generally regarded as the superior defender. This is a really tough call, but we'll give Jones the nod.
Left field - Cody Ross , Red Sox. Man, I should have taken the easy way out and just listed three "outfield" positions generically. Then it's easy: Bautista, Jones, Granderson. Instead, I'm left taking Ross at left and leaving Grandy off. Ross is hitting .280/.355/.559 with 12 homers, 39 RBI and 34 runs. That's certainly a very strong season. It's just not the caliber of Granderson.
Designated hitter - David Ortiz , Red Sox. C'mon.
Starting pitcher - CC Sabathia,  Yankees. The big man is 9-3 with a 3.45 ERA, 1.27 WHIP and 105 strikeouts in 107 innings. His biggest value is working deep into games, as he's only gone less than six innings once (which was 5 2/3 and he was hurt). He's gone at least seven innings in 11 of his 15 starts and at least eight five times. That eases a lot of strain on a bullpen that suffered a few key injuries.
Starting pitcher - David Price , Tampa Bay Rays . Price is a tough call over Jason Hammel . Price has more wins, a lower ERA and more innings pitched. Hammel has a better WHIP and higher strikeout rate. The difference are all very slight, except Price's ERA is a half-run better -- again, in more innings -- so we'll go with him.
Setup - Scott Atchison , Red Sox. I'd love to cheat and put Rafael Soriano here, since he opened the season as a setup man, but Atchison is a fine choice. Pedro Strop would be a fine choice, too, but he's behind Atchison is ERA, WHIP (due to Strop's bad walk rate) and innings pitched.
Closer - Fernando Rodney , Rays. Several good options in the division, but Rodney has been as dominant as any closer in baseball this season, saving 24 games in 25 chances with a 0.96 ERA, 0.72 WHIP and 38 strikeouts in 37 2/3 innings. Jim Johnson is just a tick behind, with Soriano deserving lots of credit for stepping in for a legend.
For more baseball news, rumors and analysis, follow @EyeOnBaseball on Twitter, subscribe to the RSS feed and "like" us on Facebook.
Show Comments
Hide Comments