An opening day that played to hopes (Red Sox) and fears (Yankees)
The Red Sox spent the spring believing they had a plan to get better. The Yankees spent the spring fearing that for them, things could get a lot worse. Opening day at Yankee Stadium played into those Red Sox hopes, and also those Yankee fears.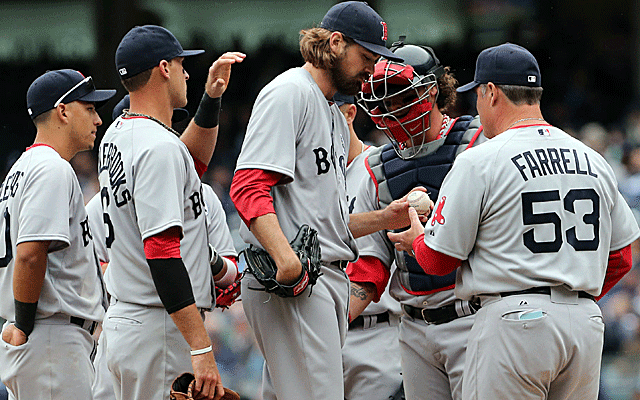 The Red Sox bullpen shutdown the makeshift Yankees' lineup in their opening day win.
(Getty Images)
NEW YORK -- The Boston Red Sox spent all of this longest of long spring trainings planning for it to go like this.
The New York Yankees spent all spring fearing it would go like this.
Opening day doesn't tell you much. But when opening day confirms some of your hopes, or when it makes your fears feel all the more real, then maybe this opening day can be a little more telling than most.
Maybe the Yankees really will be as powerless as their opening day lineup looked. And maybe the Red Sox really will be able to ride a 22-year-old kid and a stacked bullpen to a markedly better season.
The thing that stood out about Monday's 8-2 Red Sox win at a quiet and eventually near-empty Yankee Stadium was that opening day played out just the way spring training did for the two old rivals.
Jackie Bradley  was great. The Red Sox bullpen was strong. The makeshift Yankees lineup was overmatched.
And while the Red Sox seemed to exude a quiet confidence that this year will be better, the Yankees still seemed to be hoping that if they say enough times that they're still supposed to win, eventually it might happen.
"We expect to win," manager Joe Girardi said Monday morning.
It's not necessarily something a Yankees manager would have said in recent times, if only because no one would have asked the question in recent times. Until now, until this spring when it all seemed to be falling apart, everyone else would have expected the Yankees to win, too.
Just as until it all fell apart in September 2011 and all through last year, everyone always figured the Red Sox could win, too.
Things have changed so much that it was fashionable to say that the Yankees and Red Sox would be the two worst teams in the American League East this season. Things have changed so much that when I picked the Red Sox to finish second (and still miss the playoffs), one Boston writer reacted with some shock that I had them doing that well.
Sometimes you want a pick back after one game. I don't want that pick back just yet, but I'm wondering if I should have gone with the crowd and put the Yankees last.
One day in, it's fair to wonder if Bradley could give the Red Sox a real boost (and fair to say that all the cries about starting his service-time clock were misguided).
In his first big-league plate appearance, Bradley fell behind 0-2 in a left-on-left matchup with CC Sabathia , and worked his way back for a walk. When fellow rookie Jose Iglesias followed with a ground ball that took Yankee shortstop Eduardo Nunez deep into the hole, Bradley's speed got him to second base in time to turn it into a run-scoring infield hit. By the time the second inning ended, the Red Sox had a 4-0 lead.
An inning later, when the Yankees had a runner on second with two out and their one truly dangerous hitter ( Robinson Cano ) at the plate, it was Bradley going back to make the best defensive play of the day.
Bradley ended his first day in the big leagues without a hit, but with three walks, that play on the bases and that big catch in left field.
"The kid held his own," said Jonny Gomes , who moved from left field to DH when David Ortiz couldn't make opening day, making room for Bradley to win a job with the Red Sox.
Gomes had a big play of his own, coming all the way from second base to score on Jacoby Ellsbury 's infield single in the ninth. The Red Sox already led 6-2 by the time Gomes crossed the plate, but the play still helped reinforce the idea that this Red Sox season will be different from the last one (and maybe even from the last two).
"There's tremendous energy on this club," manager John Farrell said. "One word we talked about was 'relentless.' "
You could use the same word to describe Farrell's bullpen, which he showed off after starter Jon Lester needed 96 pitches to get through five innings. Farrell brought in one hard-throwing reliever after another, and even when lefty Andrew Miller began the seventh inning with back-to-back walks, it only helped show off how powerful and versatile this Red Sox pen could be.
Miller recovered to strike out Nunez and Cano, getting Cano on a 97 mph fastball. Then Andrew Bailey got Kevin Youkilis on a 95 mph fastball, giving the inning an impressive ending.
That one seventh-inning at-bat seemed more significant than most, for a few reasons. First, Farrell felt comfortable using one-time closer Bailey in the seventh, because he still had Junichi Tazawa available for the eighth (and new closer Joel Hanrahan for the ninth). Second, Youkilis' vulnerability to a 95 mph fastball above the waist only confirmed what scouts have been saying this spring, which is that the 34-year-old ex-Red Sox star now struggles with a good fastball.
When the Yankees signed Youkilis, he was supposed to be a guy who could just fill in at third base until Alex Rodriguez was ready to play. Instead, all their spring injuries left Youkilis as the opening day cleanup hitter, and left the lineup behind him looking even weaker.
One scout assessing the Yankees before Monday said Travis Hafner looks "done," that Lyle Overbay looks "done," and that the best they can hope for from Vernon Wells is that maybe his happiness at being in pinstripes will allow him to have a good month or two.
Perhaps the season will prove that scout and all the other Yankees doubters wrong, but opening day only served to feed into the worst fears for this team. Just as opening day only served to feed into the narrative of the Red Sox as a different -- and perhaps surprisingly good -- team.
"If we do what we're capable of, today is just a glimpse," said Bailey, who was speaking of the bullpen but may as well have been speaking of the Red Sox as a whole.
Opening day is necessarily just a glimpse, but for the Red Sox it was a glimpse of how this could all go right.
For the Yankees, it was just as strong a reminder of how it could all go wrong.
Show Comments
Hide Comments