Andrus deal, which has 2 opt-outs, could bring his grand total to $146M
The Rangers have received multiple trade inquiries on top prospect Jurickson Profar after extending Elvis Andrus, but has no intention to trade him at this time.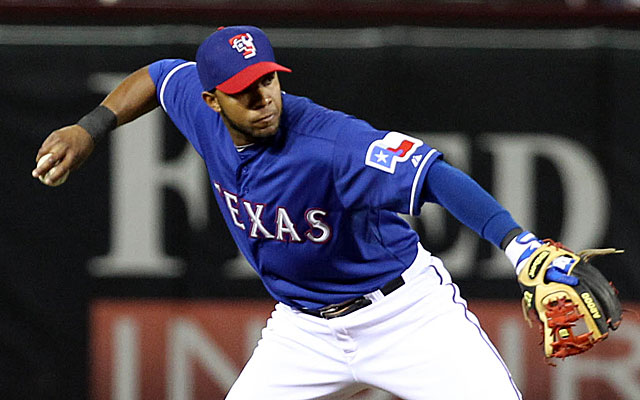 The new $120 million, eight-year deal the Rangers will announce for shortstop Elvis Andrus could be worth $146.275 million including the existing contract and a vesting option, and it features multiple or "rolling'' opt-outs for Andrus, people familiar with the contract said.
The contract could also provide multiple options for the Rangers, who assured themselves of having a star shortstop for six years but now must figure out how to deploy top prospect Jurickson Profar, second baseman Ian Kinsler and perhaps others. One option would be to consider trades, and to that end, since word of the Andrus extension leaked the Rangers have received at least a couple trade inquiries on Profar.
That shouldn't surprise anyone, as Profar is considered among the best prospects in the game, if not the top prospect. He didn't put up big spring numbers, but Rangers people say they are as high on him as ever, pointing to an exemplary on-base percentage, very good defense and a body that's starting to fill out. They say they have no intention or need to trade him.
Some around baseball may look at the Andrus deal as a bonanza for the player considering it's more money than even Jose Reyes received as a free agent. However, the Rangers view it as a 90 percent likelihood that it'll turn out to be a $60 million, four-year deal, as players almost always utilize their opt-out clause.
Texas understandably considers Andrus a better player than Nick Swisher, Michael Bourn and Shane Victorino, who got $12 million to $13 million a year as free agents this past winter. Meanwhile, Andrus was concerned about being a free agent in his mid 30s, and his agent Scott Boras got a "rolling'' opt-out clause, allowing him to use it after 2018 or '19.
Texas technically could trade Profar, Kinsler or Andrus, as Andrus' limited no-trade provision kicks in after a few years -- though it's very remote they'd even think about trading Andrus now that he's locked up. Texas people love Andrus, who they see as charismatic, healthy and offensively improving. He hit .286 with three homers, 21 stolen bases and a .286 batting average in 2012, when he made his second All-Star team. Texas people also love that he gets on base; he had a .349 on-base percentage in 2012.
Andrus had $11.275 million through 2013 on his orginal deal. The vesting option for $15 million kicks in for 2023 if Andrus has either 550 plate appearances in 2022 or 1,100 plate appearances combined in 2021 and '22.
They promised Kinsler to keep him at second base this year but could move him to first base or left field next year. They like Mitch Moreland more than his numbers, so left field is a possibility for Kinsler. They could also use prospect Mike Olt at first base depending on how Moreland plays this year. So the team has almost as many options as Andrus.
Show Comments
Hide Comments