Angels' Josh Hamilton admits to relapse involving cocaine
Josh Hamilton met with MLB officials and admitted he had a relapse that involved cocaine, Jon Heyman reports.
by

Eye on Baseball staff

• 1 min read
Angels outfielder Josh Hamilton, who was suspended from baseball from 2004 to 2006 for issues related to cocaine and alcohol abuse, is said to have had a relapse, a source told CBSSports.com baseball insider Jon Heyman.
The source told Heyman that Hamilton, who was scheduled to meet with MLB officials on Wednesday, confessed to going on a binge that involved cocaine a couple months ago. There is no indication to this point that Hamilton failed a drug test.
The Los Angeles Times reported that Hamilton was in New York on Wednesday to discuss a "disciplinary issue" with MLB officials.
Hamilton would technically be a first-time offender at the major-league level since his previous brushes occurred while the minors, and could be treated as such. First-time offenders by rule are put into a program and subject to increased testing, though Hamilton already is tested three times a week, according to reports. However, Bill Shaikin of the Los Angeles Times reported that it is "unlikely" Hamilton would be treated as strictly a first-time offender, and Jon Morosi of FoxSports.com reported that new commissioner Rob Manfred may have some discretion based on Hamilton's past minor-league incidents and ex-commissioner Bud Selig's decision to reinstate him after many minor-league suspensions.
The first hint what Hamilton's trouble might be came in a tweet from Steve Marcus of Newsday, who quoted Hamilton's father-in-law Michael Chadwick saying that Hamilton "hit a bump in the road, keep him in your prayers."
MLB spokesman Patrick Courtney declined comment, and Hamilton's agent Michael Moye didn't return a call.
The 33-year-old Hamilton was out of baseball for nearly three years due to his past struggles with both drugs and alcohol, and was suspended numerous times as a minor-leaguer. Hamilton resurfaced with the Reds in 2007, and went on to produce five strong seasons in Texas, winning an MVP in 2010 and helping the Rangers twice reach the World Series before joining the rival Angels in 2013 as a free agent on a $125-million contract.
Hamilton has under-performed with the Angels his first couple seasons there and is going to miss the first several weeks with a shoulder ailment, an injury that plagued him last year. Now there is more serious trouble, and concern for his well being beyond the baseball field.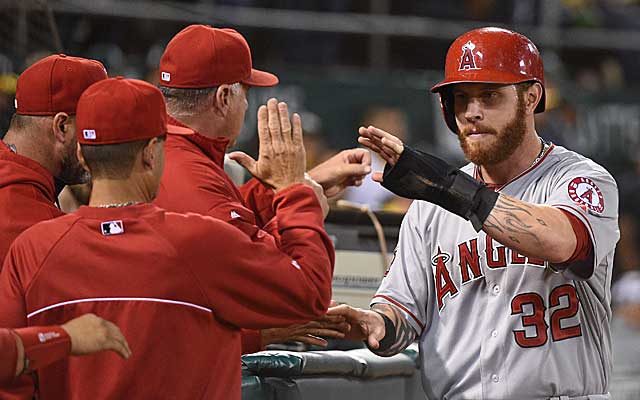 Show Comments
Hide Comments