Angry Red Sox say ending was 'a joke' (even if it was right)
The Red Sox lost one of the craziest World Series games ever on one of the craziest plays ever. And no, they didn't like it.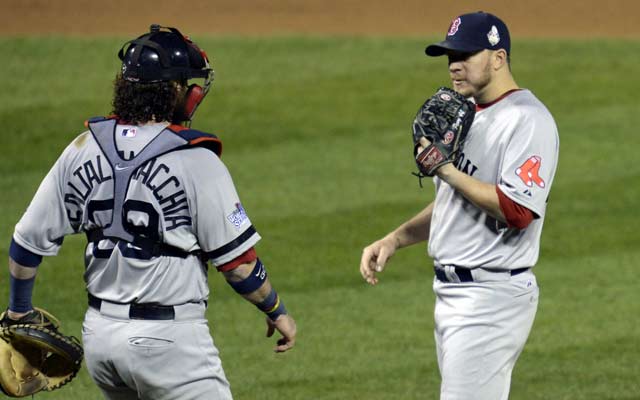 ST. LOUIS -- The Red Sox were angry, and the Red Sox were confused.
And if the Red Sox were also wrong, that was hardly going to stop them from being angry and confused.
They'd just lost one of the craziest World Series games ever on one of the craziest plays ever. They'd just fallen behind in this World Series that they began with such confidence and with such an impressive Game 1 win.
Did you expect them to celebrate Jim Joyce's reading of the letter of the obstruction law, or get all teary-eyed over what a great game baseball is?
No, it was pretty clear that whatever the explanation was for the ending of Saturday night's 5-4 Cardinals win in Game 3, the Red Sox were not going to like it.
And some of them were going to have a hard time even accepting it.
"I don't know how anyone can say that's how it should end," starting pitcher Jake Peavy said. "Find me one person who says it's OK, other than Cardinal fans. It's not OK.
"That is a joke. An absolute joke."
Peavy, like many other Red Sox players, didn't completely understand how and why Allen Craig was awarded home plate with the game-winning run. Many of the Red Sox were under the mistaken impression that home-plate umpire Dana DeMuth had called obstruction on Red Sox third baseman Will Middlebrooks, when third-base umpire Jim Joyce actually made that call.
Many of the Red Sox made the point that Middlebrooks was simply lying on the ground and that Craig tripped over him, when the umpires and MLB vice president Joe Torre explained that no intent is required for obstruction to occur.
"There's nowhere for me to go right there," Middlebrooks complained.
The way the obstruction rule is written, that's not an acceptable defense.
Middlebrooks explained that he had to dive to try to catch the throw from catcher Jarrod Saltalamacchia. He said that he initially thought that the throw had hit Craig, and that he was trying to get up so that he could go track down the ball.
"I was just trying to push myself up," he said.
Middlebrooks said he didn't know where Craig was, at least not until he got to the clubhouse and watched a replay on television. After seeing the replay, Middlebrooks and other Red Sox players complained that since Middlebrooks wasn't lying in the baseline, Craig shouldn't have run over him.
"Allen tried to jump over him and tripped," Saltalamacchia said. "I don't see how that's obstruction, when he's laying on the ground."
But it is, according to the way the rule is written.
"The rule is that the runner has every right to go to home plate unobstructed without any liability," Joyce said. "He doesn't have to get out of the way, he just has the baseline, and unfortunately, the defensive player was there."
Crew chief John Hirschbeck then pointed out that the runner actually "establishes his own baseline," so that the fact that Middlebrooks was in between Craig and the plate means he was subject to being called for obstruction.
Red Sox manager John Farrell, in his postgame press conference, seemed to accept that the call was technically correct.
"I guess by the letter of the law you could say it's obstruction," Farrell said. "Like I said, that's a tough pill to swallow."
Tough to swallow, and you can certainly understand why the Red Sox were upset. And why they weren't going to accept the explanations.
Peavy, under the mistaken impression that DeMuth made the call, brought up the call DeMuth missed in Game 1, the one that was overturned by the other umpires.
"He's already proven he can not see things right," Peavy said. "I hope he rests well in his hotel room. Ask him if he feels good to end a World Series game on that call."
DeMuth should sleep fine, as should Joyce, even though you can be sure they wish the game had ended on some other kind of play. Any other kind of play, something that wouldn't have been near as memorable but also wouldn't have put the umpires in the spotlight.
You can also be sure they understand why the Red Sox were so angry, so unwilling to accept the call that was made.
It's the World Series. They play all year to get to this point. They played all night to get to a 4-4 tie in the ninth inning, overcoming the two runs Peavy allowed in the first inning, overcoming a 4-2 deficit in the eighth inning against Carlos Martinez and Trevor Rosenthal.
If it's not obstruction, the ninth inning ends with a crazy double play, one play on which Saltalamacchia would have tagged two runners out at home plate. Dustin Pedroia would have been celebrated for his game-saving stop of the Jon Jay ground ball, Koji Uehara would have been celebrated for his escape act, and the game would have gone to extra innings.
Instead, the Red Sox lost. They trail the series, two games to one. And they have Clay Buchholz, hurting and hard to count on, starting Sunday night's Game 4.
They didn't like it. They couldn't like it.
Even if they were wrong.
Show Comments
Hide Comments