April 14 Weekday Series Rankings: NL division rivals square off
Some intra-division matchups in the National League headline the upcoming week. Here are our series rankings.
More MLB: Power Rankings | Expert Picks | Latest news & notes | Fantasy news
We are about to enter the third full week of the regular season, which means it's time to rank and preview the upcoming series (plural!). Here's a reminder of what we're trying to do:
The idea is simple: We're ranking the series in tiers represented by delicious sandwiches. The first tier, meaning the best series, will be footlongs. The second tier is six-inch heroes, the third tier is wraps, the last little sliders. The bigger the sandwich, the more important the series. Got it? Of course you do.
The National League steals the show this week. Onto the rankings:

| | | |
| --- | --- | --- |
| | at | |
Los Angeles Dodgers (9-4) at San Francisco Giants (8-5)
Monday: OFF
Tuesday: RHP Josh Beckett (0-0) vs. RHP Tim Lincecum (0-1)
Wednesday: LHP Paul Maholm (0-1) vs. RHP Ryan Vogelsong (0-0)
Thursday: LHP Hyun-Jin Ryu (2-1) vs. LHP Madison Bumgarner (2-0)
Why Watch? It's the Dodgers and Giants, one of the best rivalries in all of sports. The Giants took two of three in Los Angeles a week ago, an atypical series that featured three games that weren't all that close (final scores: 8-4, 7-2, 6-2). These two teams tend to play very tight games with lots of late-inning drama. The series shifts to San Francisco for these three games.
What To Watch For: Matt Kemp , who is 4-for-26 (.154) with three home runs since coming off the DL a little more than a week ago. The Dodgers have a good offense without him, but if Kemp comes back and is even 75 percent of the player he was from 2011-12, I'm not sure any NL squad could match their firepower.
| | | |
| --- | --- | --- |
| | at | |
St. Louis Cardinals (7-5) at Milwaukee Brewers (10-2)
Monday: RHP Lance Lynn (2-0) vs. RHP Matt Garza (1-0)
Tuesday: RHP Shelby Miller (0-2) vs. RHP Marco Estrada (1-0)
Wednesday: RHP Joe Kelly (1-0) vs. RHP Wily Peralta (1-0)
Why Watch? The Cardinals are the reigning division champs and the Brewers are the hottest team in baseball, winning each of their last nine games. That stretch includes sweeps against the Red Sox and Pirates. You can't win a division in April, but you sure as heck can give yourself a nice head start. This series will be a good litmus test for the Brew Crew.
What To Watch For: Allen Craig and Jhonny Peralta , who come into the series sporting .300 and .526 OPSes, respectively. Craig went 1-for-3 with a walk on Sunday while Peralta went 2-for-4, so they are showing some signs of life. The St. Louis offense has underperformed so far and those two are a big reason why.
| | | |
| --- | --- | --- |
| | at | |
Pittsburgh Pirates (6-6) at Cincinnati Reds (4-8)
Monday: LHP Wandy Rodriguez (0-2) vs. RHP Homer Bailey (0-1)
Tuesday: RHP Gerrit Cole (2-0) vs. RHP Mike Leake (1-1)
Wednesday: LHP Francisco Liriano (0-2) vs. RHP Johnny Cueto (0-2)
Why Watch? This is a rematch of last fall's NL Wild Card game. I wonder if Johnny Cueto still has nightmares about those "Cuuuuueto, Cuuuuueto, Cuuuuueto" chants from the PNC Park faithful? The Pirates ran into the buzz saw known as the Brewers this weekend and the Reds have been a big disappointment early on, so you can be sure both of these clubs are hoping to use this series as a way to get on an extended roll.
What To Watch For: Liriano, only because his velocity is down 1-1.5 miles an hour across the board in the early going. He is still striking out a ton of batters (10.5 K/9) and both his walk (3.5 BB/9) and ground ball (50.5 percent) rates are in line with last season, but he's allowed four runs in six innings in each of his last two starts. A small red flag at this point.

| | | |
| --- | --- | --- |
| | at | |
Chicago Cubs (4-8) at New York Yankees (7-6)
Monday: OFF
Tuesday: RHP Jason Hammel (2-0) vs. RHP Masahiro Tanaka (1-0)
Wednesday: LHP Travis Wood (0-1) vs. RHP Michael Pineda (1-1)
Why Watch? The week's lone interleague series is a fun one with two historic franchises. The Cubbies are visiting the new Yankee Stadium for the first time and this will be their first trip to the Bronx since 2005. Alfonso Soriano will get to see some of this old teammates and the Cubs will get a first-hand look at Tanaka, who they reportedly pursued very aggressively this winter.
What To Watch For: Tanaka and Pineda. Both have been pretty excellent in the early going, combining for a 2.42 ERA with 30 strikeouts and three walks in 26 innings.
| | | |
| --- | --- | --- |
| | at | |
Tampa Bay Rays (7-6) at Baltimore Orioles (5-7)
Monday: RHP Chris Archer (1-0) vs. LHP Wei-Yin Chen (1-1)
Tuesday: RHP Jake Odorizzi (1-1) vs. RHP Miguel Gonzalez (0-1)
Wednesday: RHP David Price (2-0) vs. RHP Chris Tillman (1-1)
Why Watch? I always tend to rank AL East matchups highly because there is so much potential for offensive fireworks. These games could be very high scoring despite the pitching matchups, and hey, I'm an offense first guy. Besides, the division figures to be very tight all year and that places an added emphasis on these head-to-head matchups.
What To Watch For: The Rays pitching and whether they can get through this series healthy. Both Matt Moore (elbow) and Alex Cobb (oblique) hit the 15-day DL in the last week, forcing Cesar Ramos and ... Erik Bedard ? ... into the rotation. Yikes.
| | | |
| --- | --- | --- |
| | at | |
Cleveland Indians (6-7) at Detroit Tigers (6-4)
Monday: OFF
Tuesday: RHP Zach McAllister (1-0) vs. RHP Anibal Sanchez (0-0)
Wednesday: RHP Danny Salazar (0-1) vs. LHP Drew Smyly (1-0)
Thursday: RHP Justin Masterson (0-0) vs. RHP Justin Verlander (1-1)
Why Watch? The Tigers and Indians finished first and second in the AL Central last season, and if the Royals continue to not score runs, they could be headed for another battle atop the division. I think these two clubs are more evenly matched that most realize, especially offensively.
What To Watch For: McAllister, who dominated the Padres last time out and appeared to be on the cusp of breaking out at times last year. Cleveland came into 2014 with some pitching concerns and he can go a long way towards solidifying the rotation.
| | | |
| --- | --- | --- |
| | at | |
Seattle Mariners (6-5) at Texas Rangers (6-6)
Monday: LHP Roenis Elias (0-1) vs. RHP Colby Lewis (0-0)
Tuesday: RHP Blake Beavan (0-0) vs. RHP Robbie Ross (0-0)
Wednesday: RHP Felix Hernandez (3-0) vs. RHP Yu Darvish (1-0)
Thursday: RHP Erasmo Ramirez (1-2) vs. RHP Tanner Scheppers (0-1)
Why Watch? So far this year, the Rangers have had a ton of problems scoring runs (3.8 runs per game) while the Mariners have been close to half-a-run per game better (4.2). It's pretty much the opposite of what I expected coming into the season. If Seattle wants to be taken seriously as a contender, these are the series I think they need to win. Or at least split, it is a four-gamer, after all.
What To Watch For: Felix vs. Darvish, the week's best pitching matchup by a mile. It doesn't get much better than that.
| | | |
| --- | --- | --- |
| | at | |
Oakland Athletics (8-4) at Los Angeles Angels (6-6)
Monday: RHP Jesse Chavez (0-0) vs. LHP Hector Santiago (0-2)
Tuesday: RHP Dan Straily (1-0) vs. RHP Garrett Richards (2-0)
Wednesday: LHP Tommy Milone (0-1) vs. RHP Tyler Skaggs (1-0)
Why Watch? The Athletics are the only team in the league that has not lost consecutive games yet in 2014. The Angels have actually been one of the highest scoring teams in the league (5.6 runs per game) and Oakland is sending the back of their rotation to the mound this week. This is a chance for the Halos to bank some wins against a direct competitor for the AL West crown.
What To Watch For: Raul Ibanez . He has long been one of the streakest players in baseball and he has homered in each of his last two games. When Raul gets hot, he legitimately carries his team.
| | | |
| --- | --- | --- |
| | at | |
Boston Red Sox (5-8) at Chicago White Sox (7-6)
Monday: OFF
Tuesday: RHP Jake Peavy (0-0) vs. RHP Erik Johnson (0-1)
Wednesday: RHP Clay Buchholz (0-1) vs. LHP John Danks (1-0)
Thursday: LHP Jon Lester (1-2) vs. LHP Chris Sale (3-0)
Why Watch? Do you know which team leads MLB in runs scored this season? It's not the Red Sox, who did the honors a year ago. It's the White Sox. By a lot. They've score 80 (!) runs this year and only one other team has scored as many as 70 runs. That would be the Coors Field aided Rockies. The ChiSox can swing the bat, the BoSox ... not so much in the early going.
What To Watch For: Are the injuries getting to be too much for Boston? Shane Victorino (hamstring) has not played at all this year, Will Middlebrooks (calf) lasted only a few games, and both Dustin Pedroia (wrist) and Koji Uehara (shoulder) just went down as well.

| | | |
| --- | --- | --- |
| | at | |
Atlanta Braves (8-4) at Philadelphia Phillies (6-6)
Monday: RHP Ervin Santana (1-0) vs. RHP Roberto Hernandez (1-0)
Tuesday: RHP David Hale (0-0) vs. LHP Cliff Lee (2-1)
Wednesday: RHP Julio Teheran (1-1) vs. RHP A.J. Burnett (0-1)
Thursday: LHP Alex Wood (2-1) vs. RHP Jonathan Pettibone (0-0)
Why Watch? This NL East matchup would be much more fun if a) the Braves were healthy, and b) the Phillies were any good. Sure, they just swept the Marlins, but that isn't the most impressive thing in the world. Freddie Freeman (.442/.519/.814) and Chase Utley (.500/.565/.875) are hitting out of their minds right now.
What To Watch For: Freeman and Utley only to see how long it lasts. Those two are as locked in as they could possibly be.
| | | |
| --- | --- | --- |
| | at | |
Washington Nationals (7-5) at Miami Marlins (5-8)
Monday: RHP Jordan Zimmermann (0-0) vs. LHP Brad Hand (0-0)
Tuesday: RHP Stephen Strasburg (1-1) vs. RHP Tom Koehler (1-1)
Wednesday: RHP Tanner Roark (1-0) vs. RHP Jose Fernandez (2-1)
Why Watch? Both teams were just swept (Nats by the Braves, Marlins by the Phillies) but the expectations are very different. Washington is expected to be one of the better teams in the league, and since they seem incapable of beating the Braves, they'll have to rely on beating up teams like Miami to win the NL East.
What To Watch For: It's too bad Strasburg and Fernandez are not starting against each other. That would have been fun. You'll have to settle for watching their starts separately.
| | | |
| --- | --- | --- |
| | at | |
Toronto Blue Jays (7-6) at Minnesota Twins (6-6)
Monday: OFF
Tuesday: RHP Brandon Morrow (1-1) vs. RHP Phil Hughes (0-0)
Wednesday: RHP R.A. Dickey (1-2) vs. RHP Mike Pelfrey (0-2)
Thursday: RHP Dustin McGowan (1-1) vs. RHP Kyle Gibson (2-0)
Why Watch? The Blue Jays are actually in first place right now (well, tied for first) and the Twins have won three in a row, so these two teams might not play better baseball than they are right now. Harsh? Yes. But after last season, they haven't earned the benefit of the doubt.
What To Watch For: Toronto's offense against Minnesota's pitching. The Blue Jays are fifth in the league with 13 home runs and the Twinkies have the third worst ERA in baseball at 5.36. This one could get out of hand in a hurry.

| | | |
| --- | --- | --- |
| | at | |
New York Mets (5-7) at Arizona Diamondbacks (4-11)
Monday: RHP Zack Wheeler (0-2) vs. RHP Josh Collmenter (0-0)
Tuesday: RHP Jenrry Mejia (1-0) vs. RHP Bronson Arroyo (1-0)
Wednesday: RHP Dillon Gee (0-0) vs. RHP Brandon McCarthy (0-2)
Why Watch? These two clubs are a mess right now. The D-Backs just got swept at home by the Dodgers while the Mets have allowed 25 runs in their last three games. At least the Amazin's have an excuse: they're rebuilding, clearly. Arizona? They're supposed to be contending. Ugly.
What To Watch For: How does Collmenter handle his first start since 2012? The D-Backs have major pitching problems, bad enough that they put their long reliever in the rotation. If he can't hold the spot down, Arizona has close to no chance to climbing out this early-season hole.
| | | |
| --- | --- | --- |
| | at | |
Kansas City Royals (4-7) at Houston Astros (5-8)
Monday: OFF
Tuesday: RHP Yordano Ventura (0-0) vs. LHP Lucas Harrell (0-2)
Wednesday: RHP Jeremy Guthrie (2-0) vs. LHP Dallas Keuchel (1-1)
Thursday: LHP Bruce Chen (0-1) vs. RHP Scott Feldman (2-0)
Why Watch? The Royals simply can not score. Their 32 runs are the fewest in the AL (by six!), and through 11 games they have only hit one home run. As a team! That's hard to believe. The Astros started the season with two wins over the Yankees but have since lost eight of 11. They're back to being the Astros again. This will be a battle of futility.
What To Watch For: Ventura, Kansas City's electric rookie right-hander. Will he set yet another regular season record for the fastest pitch by a starter during the PitchFX era? He's done it twice already.
| | | |
| --- | --- | --- |
| | at | |
Colorado Rockies (6-7) at San Diego Padres (5-7)
Monday: RHP Jordan Lyles (2-0) vs. LHP Eric Stults (0-2)
Tuesday: RHP Juan Nicasio (1-0) vs. LHP Robbie Erlin (1-0)
Wednesday: LHP Jorge De La Rosa (0-2) vs. RHP Andrew Cashner (1-1)
Thursday: LHP Brett Anderson (0-2) vs. RHP Ian Kennedy (1-2)
Why Watch? I thought the Padres would contend for a Wild Card spot this season and while they still might, they haven't looked as good as I hoped early on. The Rockies are mediocrity defined, but at least they have two watchable studs in Troy Tulowitzki and Carlos Gonzalez .
What To Watch For: I'll be watching Cashner, who twirled an 11-strikeout one-hitter in his last start. He is right on the cusp of acehood.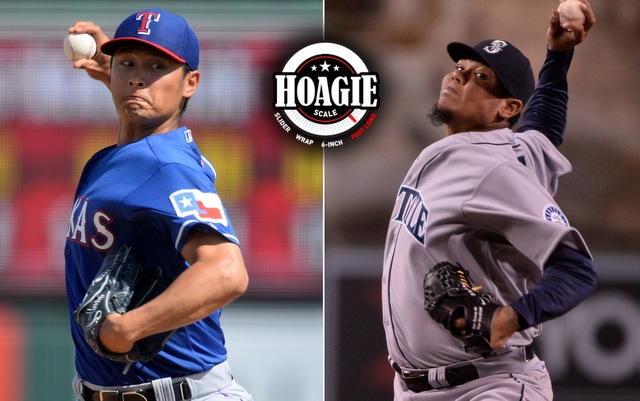 Show Comments
Hide Comments
The hotshot prospect could give them a big boost in September

Walker needs surgery to fix a bulging disc in his back

A walk-off loss and then a blowout have them with eight losses in a nine-day stretch
The Cubs first baseman is a cancer survivor himself

He's aiming higher, for sure, but the Bridgeport Bluefish want Tebow on their side

Jeremy Jeffress and the Rangers each released a statement following the reliever's recent arrest...