Arizona radio station advocates plunking Puig to 'pay their debt'
A radio station in Arizona advocated for the Diamondbacks to hit Yasiel Puig with a pitch on Wednesday so the Dodgers could "pay their debt."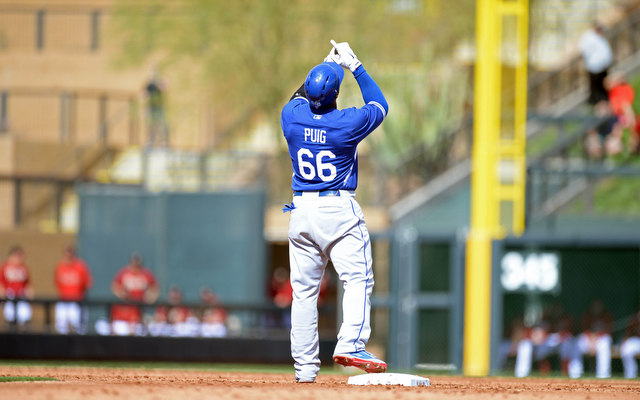 MORE: Spring Training | Scoreboard |  FA tracker: position players | FA tracker: pitchers
The NL West rival Dodgers and Diamondbacks opened up their Cactus League schedules with a head-to-head matchup on Wednesday. Before the game, Doug Franz of KTAR radio in Arizona wrote a blog post advocating for the D-Backs to hit Yasiel Puig with a pitch so the Dodgers could "pay their debt."
Here's more from Franz's post:
It's time for the Dodgers to pay their debt. Plunk Puig!

...

Plunking Puig today at Salt River Field declares the Diamondbacks will not back down. Waiting around is like sneaking behind someone's back. Be a man. Take the punishment. Move on. First, however, the Dodgers must pay their debt.
Franz also played the whole "I'm not advocating violence" card -- lol Doug, lol -- but also goes on to say that waiting until the regular season would risk longer suspensions. The Dodgers should "take the punishment" but the D-Backs should try to avoid a regular season suspension, you see. KTAR reportedly took a listener poll as well.
I assume this stems from the infamous pool celebration, when Los Angeles celebrated clinching last year's division crown with a party inside the Chase Field pool. The two teams also had a benches clearing brawl last summer after the since-traded Ian Kennedy went head-hunting and hit Zack Greinke with a pitch up high. D-Backs manager Kirk Gibson also criticized the Dodgers for not sending star players on an MLB promotional tour through Australia over the winter.
Shock jock sports radio is what it is, but don't forget that D-Backs GM Kevin Towers advocated intentional beanings and an "eye for an eye" mentality last year:
"You'd think the GM comes down and makes it a point to talk to the staff about it that at we need to start protecting our own and doing things differently," he said. "Probably a week later [Paul Goldschmidt] gets dinged, and no retaliation. It's like 'wait a minute.'

"Not that I don't take any of our guys from a lesser standpoint, but if Goldy's getting hit, it's an eye for an eye, somebody's going down or somebody's going to get jacknifed."
Crazy idea: the D'Backs could try to beat the Dodgers on the field and stop worrying about having to intentionally hit players.
(Wink of the CBS eye: Big League Stew)