As Sandberg comes back, will the Cubs regret letting him leave?
Ryne Sandberg wanted to manage the Cubs, but the team bypassed him twice. Now he returns to Wrigley Field as a visiting manager.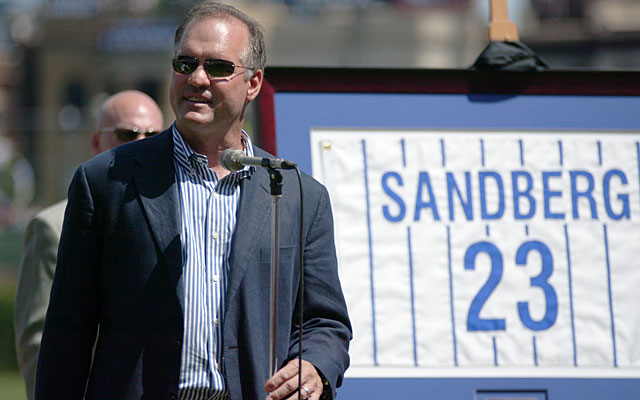 NEW YORK -- No team should ever hire a manager simply because he "deserves it." No team should ever hire a manager simply because he's the guy the fans want.
It's too important a job. It's too important to hire the right guy, and not just the most popular guy.
All that said, you still wonder why Ryne Sandberg isn't managing the Cubs, instead of preparing to manage against them this weekend.
You still wonder if the Cubs made a mistake that will haunt them for year when they (twice) passed him over, or whether they avoided the public relations nightmare of watching such a popular figure fail in such a key job.
There's no way to know that yet, not with Sandberg just 14 games into his first big-league managing job with the Phillies. There are some positive early signs, some nice words from his players and some decent results, but nothing even close to definitive.
"Ryno's going to be a very good major-league manager," Phillies third baseman Michael Young predicted.
It could haunt the Cubs for years if he is, especially if he achieves his goal of winning a World Series before the Cubs achieve theirs. For now, though, the story is just of a popular legend returning to Wrigley in an unfamiliar uniform (even if Sandberg did get his first big-league hit at Wrigley, as a Phillie, in 1981).
Sandberg comes in without even a guarantee that he'll manage the Phillies beyond this season. The team stuck an "interim" label on him when he replaced Charlie Manuel two weeks back, and there have been hints that they might want to see whether someone more experienced (or more exciting) becomes available after the season.
There are plenty of people in the Phillies clubhouse who would like to see Sandberg stay and succeed, and plenty of people around baseball who would like to see the same thing.
Sandberg is the rare Hall of Famer who wants to manage (the first Hall of Fame player to manage since Frank Robinson with the 2006 Nationals), and the rarer major-league star who agreed to manage in the minors as preparation for a big-league job.
"It was totally worthwhile," Sandberg said. "I learned so much going through that process. I would say I wouldn't be prepared if I hadn't done that, and if I'd been put in this situation [managing in the big leagues], I'd have had no chance."
He speaks without any sense of entitlement, and describes his experience with the Cubs manager searches in the same way.
"There's no guarantee to manage in the majors," he said.
And yet it seemed like the Cubs were slapping Sandberg in the face when they bypassed him after he spent all that time in the minors (four years in the Cubs organization, and then two years with the Phillies' Triple-A team). From the outside, it felt like the Cubs had decided that Sandberg just wasn't that good a manager, that despite all the experience he wasn't the right guy.
Jim Hendry, the Cubs general manager who picked Mike Quade over Sandberg after the 2010 season, insists it wasn't that way. Quade had taken over for Lou Piniella as interim manager midway through 2010, and the Cubs players had responded to Quade and wanted him to get the job full-time.
"I just felt Mike deserved a shot," Hendry said Thursday. "But I'm thrilled [Sandberg] is getting a chance now."
A year later, Hendry and Quade were both gone, and new boss Theo Epstein quickly let Sandberg know that he wasn't under consideration as manager.
Sandberg was already a Phillies employee by then, and already considered by many to be the manager-in-waiting behind Manuel. He spent two years managing the Triple-A IronPigs before moving to the major-league staff as third-base coach.
He impressed the players with his approachability, and by showing that he understands that not everyone has Hall of Fame ability. His reputation was that he was a players' manager, but one who wasn't afraid to get tough when he needed to.
"I loved him," said Pete Orr, who played for Sandberg in the minors and now with the Phillies. "His biggest asset is his drive, his drive for the team to win, and also to want his players to succeed.
"He's in your corner."
Phillies people have already noted that Sandberg isn't afraid to try something new, and that he seems to want to push things on the bases a little more than Manuel did. They also note that he seems comfortable putting responsibility on the younger players.
"Those kids who played for him last year, Charlie never had confidence in any of them," said one rival scout who sees the Phillies regularly. "[Jake] Diekman, J.C. Ramirez, Tyler Cloyd --[Sandberg] isn't afraid to use them, and those kids seem more confident now.
"It's not a great team, but they are playing hard."
It isn't a great team, and the Phillies have a lot of work to do to turn this into even a competitive team next year. But with tickets to sell, big contracts still to run and a new television contract to negotiate, there's little chance of a real rebuild.
There's pressure to contend, or at least to be seen as trying to contend, and some believe Phillies management would jump at someone like Mike Scioscia if he became available.
Scioscia is an interesting name, because he grew up in Pennsylvania. He's also interesting because he was once to the Dodgers what Sandberg is to the Cubs: a popular former player who managed in the minors but was passed over for a big-league job.
Bypassing Scioscia proved to be a big Dodgers mistake. It's too early to know if bypassing Sandberg will prove just as bad.
But you better believe that this weekend at Wrigley Field, some will be asking exactly that question.
Show Comments
Hide Comments