As the Rangers sink again, it's hard not to think the worst
It's been a rough week for the Rangers, and even a big rally Friday wasn't enough to change the story.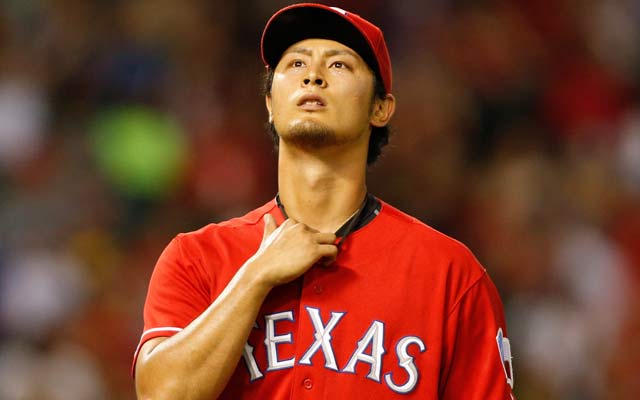 ARLINGTON, Texas -- On the field, the Rangers were getting ready for what should have been their biggest series of the year.
On the scoreboard, they were reminding people about opening day 2014.
I'm sure they meant nothing by it. I'm sure they do it every September, after the next season's schedule comes out.
And if the Rangers weren't sinking in September -- after sinking last September -- I wouldn't have thought anything of it.
They are sinking, and even a crazy comeback that nearly won them Friday night's game against the A's doesn't change the big picture. Even a blown call that wrongly ended the Rangers' six-run eighth inning with the A's still in front by a run doesn't change the fact that a 9-8 loss left the Rangers 4 1/2 games behind the first-place A's with 16 games left, and just 2 1/2 games ahead of the Indians for the American League's final playoff spot. 
It's hard not to think the worst about the Rangers right now, hard not to wonder if they even belong in the playoffs, hard not to look at the out-of-town scores and see the Indians winning and the Orioles winning and the Rays winning and think that this Rangers team might not even make it as far as last year's Rangers team.
That team, remember, hosted the first-ever American League wild-card game, losing it to the Orioles to complete an absolutely stunning collapse. That team reached the 145-game mark with the best record in the American League.
That team had Josh Hamilton, Mike Napoli and Nelson Cruz.
This team doesn't. This team took advantage of a strong start and a soft August schedule to go 23 games over .500 by the end of the month, then went into a slump that perhaps should have been predictable.
"I'm just not sure they're that good," said one scout who sees the Rangers frequently.
They can't be as bad as they looked this week, when they were swept at home by the Pirates. They might well be good enough to recover in time to hold onto one of the American League's two wild-card berths.
For now, they're still ahead of the Indians, and the Rays and the Yankees and the Orioles and the Royals, too. For now, they can even still think about catching the A's.
"We're still there," Derek Holland said, even after Friday's loss. "Don't rule us out. We're in everything. If you guys want to rule us out, go ahead."
It's not over, but 4 1/2 games with 16 to play is a huge deficit, with no head-to-head meetings after this weekend and with the A's holding the easier remaining schedule. The Rangers needed a three-game sweep to make this really interesting, and instead all they got was a late rally that fell short.
The rally made the Rangers' offensive numbers look a little better, but Holland's ugly start pointed out another recent Rangers problem. Holland, Yu Darvish and Matt Garza, the team's three top starters, remain winless in 13 combined starts since Aug. 19.
The offense, meanwhile, remains so inconsistent that manager Ron Washington was openly hoping Friday that 28-year-old rookie Jim Adduci, who has more than 3,000 career minor-league at-bats, "might be the lightning we're looking for."
It's easy at this point to question the Rangers' inability to make a big acquisition last winter, although it's also worth pointing out that they made what were supposed to be two significant additions (Garza and Alex Rios) this summer. It's easy to wonder if last September's collapse weighs on this team, except that so many of the circumstances (and many of the players) are different this time around.
It's also easy to wonder whether there would be a more significant shakeup if this team doesn't make it. The Rangers stuck with Washington after last September, but could they do it again if this one turns out bad, too?
There's time for that, and there's time for the Rangers to make those questions irrelevant.
The biggest difference between last year and this year is that last year's collapse came so late. At this point last year, the Rangers still had the best record in the league. The A's caught and passed them in the final days of the season, and the Rangers were a stunned mess when they hosted the Orioles (and lost) in the one-game wild card play-in.
They have time to recover from this, time to make the play-in game feel almost like a reward rather than like a symbol of all that had fallen apart. Perhaps the Rangers will even be able to look back at Friday's rally as the moment when it all began to turn.
There's still time to make opening day 2014 feel like it's a long way away, and not like it's the next time the Rangers will matter.
Show Comments
Hide Comments
Our Latest Stories
Ground-rule double or not? It's complicated, and so's challenging a play at the end of a g...

Rain cut things short in Pittsburgh on Thursday night, so nobody won

Here's a look at the postseason race standings with four days left in the regular season
A certain Yankee legend was on hand to honor Big Papi before his final appearance at Yankee...

The outfield grass will be looking good for David Ortiz's final regular season appearance in...

The Tigers and Indians were rained out on Thursday. Here's what that means for the AL wild...