Astros drew a 0.0 Nielsen rating in Houston for Monday's game
No one is watching the Astros. The team drew a 0.0 Nielsen rating for Monday's game against the Angels.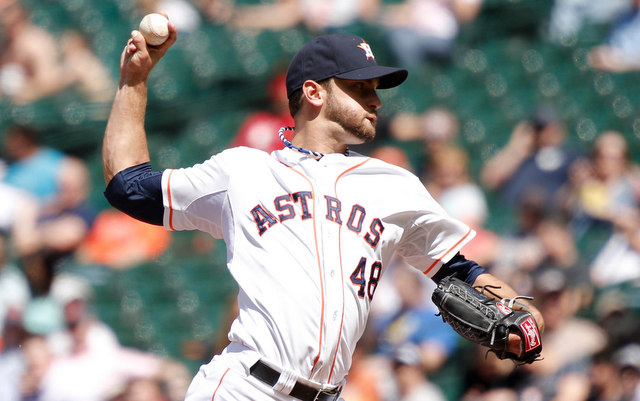 More MLB: Scoreboard | Standings | Probable Pitchers | Sortable Stats | Odds
Last September, the Astros embarrassingly drew a 0.0 Nielsen rating in the greater Houston area for a game against the Indians. No one watched, essentially. On Monday, it happened again according to David Barron of the Houston Chronicle. From Barron:
Nielsen's Houston ratings report for Monday shows a 0.0 rating for households, adults 25-54 and men 25-54 for the afternoon Angels-Astros game at Minute Maid Park. The Angels won the game 9-1.

...

The Nielsen report, of course, doesn't mean that no one among the approximately 500,000 or so households in the Houston area with access to CSN Houston was watching the game.

Nielsen uses a limited number of TV set-top meters to measure viewing habits – 579 were use at some point during the day Monday, according to the report. None of them tuned in to the Angels-Astros game; thus, the 0.0 rating.
Amazingly, the pre-game show drew a 0.2 Nielsen rating, so people watched the pre-game show but did not stick around for the actual game against Mike Trout and the Angels. Barron notes Monday's game was broadcast at the same time as a NASCAR race, which likely drew some viewers away.
The Astros have been baseball's worst team for three years running now, losing at least 106 games every year since 2011. They are in the middle of a massive rebuild and have a fantastic farm system, but the market is still dominated by the casual fan and casual fans don't care about prospects. The team is awful and they are not paying attention.
The club's all-in rebuild has real consequences. Fans are being alienated, and when fans aren't watching or attending games, revenue goes down. Those are real dollars being pushed away.
Show Comments
Hide Comments
Our Latest Stories
The fourth installment of the WBC was an overwhelming success

First spring at-bat? No problem. Arrieta goes downtown to the tune of 465

The Yankees seem to be shooting down offers for veteran shortstops across the league
Fans in Puerto Rico are very proud of their players for their WBC effort

The bat-flipper extraordinaire wants MLB players to know latin players mean no disrespect

USA claimed their first WBC title on Wednesday. How would this roster perform during an MLB...