Astros' top prospect Carlos Correa set for hand X-rays after HBP
Hold your breath, Astros fans: Shortstop Carlos Correa will have X-rays on his left hand after being struck by Tyler Clippard pitch.
MORE: Spring Training | Scoreboard | Team previews
On Wednesday, Astros shortstop Carlos Correa, one of the top prospects in all of baseball, was struck on the left hand by a pitch from Tyler Clippard of the Nationals. After writhing on the ground in pain for a few moments, Correa was forced to leave the game. 
Here's the play in question ...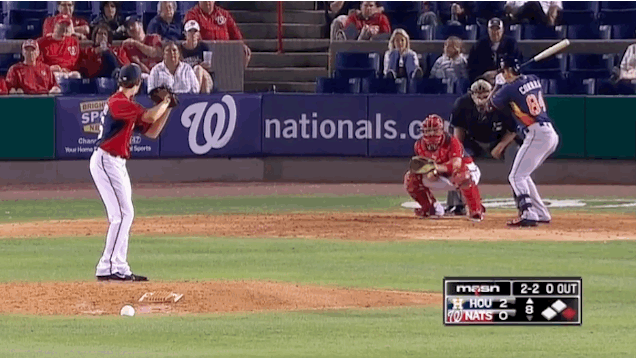 The (possible) good news is that the injury might not be as serious as it first appeared. Here's this from Evan Drellich of the Houston Chronicle:
Left hand for Correa. He said it feels good... so, as good as can be, then. XRay is tomorrow not tonight

— Evan Drellich (@EvanDrellich) March 20, 2014
Obviously, we won't know until Thursday whether Correa has avoided a fracture, but so far so good. 
The 19-year-old Correa was the top overall pick of the 2012 draft. Last season, he batted .320/.405/.467 at low Single A Quad Cities with 33 doubles in 117 games. He's likely ticketed for high Single A to start the 2014 season. 
Talk to anyone who knows Correa, and they're as likely to praise his attitude and makeup as they are his substantial baseball skills. Here's hoping this isn't anything that sidelines him for too long.