At these rates, Nelson Cruz makes sense for Orioles
Thanks to a tough market, the O's got a good deal when they inked Nelson Cruz to a one-year pact.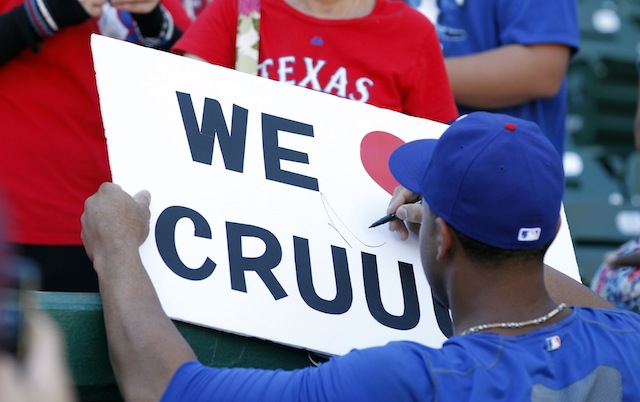 MORE: Spring Training | FA tracker: position players | FA tracker: pitchers
As our own Jon Heyman reported, the Orioles on Saturday agreed to terms with Nelson Cruz on a one-year, $8-million deal plus modest incentives. 
Earlier this offseason, speculation had it that Cruz was angling for a multi-year deal worth around $75 million. At those rates, Cruz would've been one of the worst signings of the offseason. After all, he's a defensively challenged 33-year-old who has a middling OPS of .734 outside of hitter-friendly Arlington. However, under the terms to which the Orioles have agreed to, Cruz stands to be an asset. 
As noted above, it's merely a one-year commitment -- optimal for a corner defender who turns 34 before the All-Star break -- and it's at a rate of $8 million, which means, in market terms, Cruz needs to be worth a bit more than one win above replacement in order for the O's to recoup their investment. For reference, last season Cruz was worth 1.5 WAR. Of course, his WAR was dragged down by this poor performance with the glove. In Baltimore, though, Cruz will be slotted in as the primary DH, so the damage he can do to his overall value with the glove will be kept to a spare mininum. That's an important consideration. 
As well, Cruz addresses a glaring need in the Oriole lineup. In 2013, Baltimore DHs combined to hit just .234/.289/.415. Cruz should provide a comfortable upgrade over that level of production, even outside of Arlington. 
Speaking of "outside of Arlington," Cruz's new digs in Camden Yards, as it turns out, should be a nice fit for the righty-swinging Cruz. After all, in each of the last three seasons Camden Yards has been a slightly better environment for right-handed home runs than has Arlington. As you can see in this FanGraphs chart, Cruz's batted-ball activity -- especially homers and ground balls -- shows a general clustering toward the pull side ... 
Source: FanGraphs
Since Cruz isn't necessarily a dead pull hitter, he may be poised to take advantage of the somewhat accommodating left-center power alley in Camden, which checks in at nine feet closer to the plate than the right-center alley. As this chart from Home Run Tracker suggests, Cruz wouldn't have lost any of his 27 home runs from last season had they all occurred at Camden ...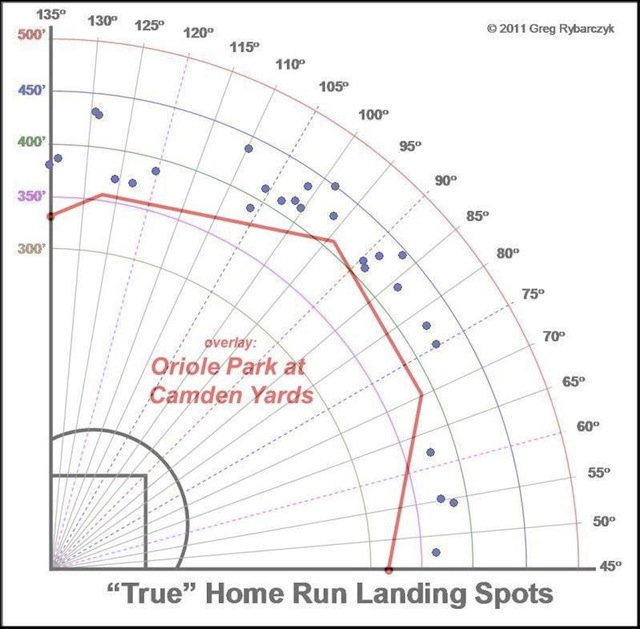 It's never quite as simple as taking home runs in one ballpark and dropping them down in another one (weather patterns, hitting visuals and whatnot), but the dimensions and the park-to-park numbers suggest Cruz will be just fine hitting in Baltimore. 
So we have a player who addresses a manifest weakness, will be placed in an environment that suits his skills and power profile and -- in keeping with "best practices" -- will rarely be picking up a glove. Under those circumstances and at a cost of just $8 million over a single season (plus the loss of a draft pick, of course), Cruz is a good fit in Baltimore. Contrary to expectations earlier in the offseason, the market certainly figured this one out.