Aug. 15 Weekend Watch List: Huge Mariners-Tigers series in Detroit
This weekend's action is highlighted by a huge series between two postseason hopefuls, the Mariners and Tigers, in Detroit.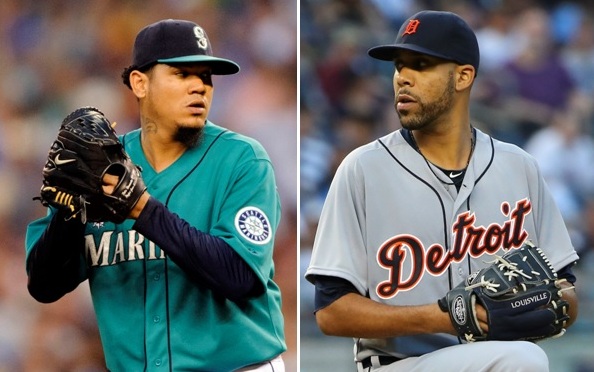 More MLB: Power Rankings | Expert Picks | Latest news & notes | Fantasy news
Another weekend of baseball is upon us as the various postseason races really start to heat up. Here's a look ahead to the weekend.
1. Seattle Mariners at Detroit Tigers (three games)
In the span of three weeks, the Tigers watched their seven-game lead in the AL Central evaporate. They are now a half-game back of the Kansas City Royals . The Tigers currently sit in the second wild-card spot and are a half-game up on ... the Mariners. Fun!
The Tigers and Mariners will play three huge games with serious postseason implications at Comerica Park this weekend. Detroit comes in having won two straight but also with six losses in its past nine games. Seattle, meanwhile, just wrapped up an 8-1 homestand. The Toronto Blue Jays and New York Yankees have slid back in the standings a bit, so right now the competition for that second wild-card spot is primarily between the Tigers and Mariners. This is a huge, huge series.
2. Pittsburgh Pirates at Washington Nationals (three games)
The Nationals have built themselves a comfortable six-game lead in the NL East while the Pirates are in the thick of NL wild-card race. They are currently in the second wild-card spot, a half-game back of the St. Louis Cardinals and a half-game up on the San Francisco Giants . This series is far more important to Pittsburgh than Washington, but it should still be an excellent set of games because both teams have been playing well for several weeks now.
3. Primo pitching matchups
This is a really good weekend for pitching matchups. Here are the best on deck:
Friday: Cole Hamels , Philadelphia Phillies vs. Madison Bumgarner , Giants
Saturday, Part One: Felix Hernandez , Mariners vs. David Price , Tigers
Saturday, Part Two: Sonny Gray , Oakland Athletics vs. Julio Teheran , Atlanta Braves
Can't beat those matchups, especially Saturday's meeting of the 2011 (Felix) and 2012 (Price) AL Cy Young award winners.
4. The drive for 51 wins
At some point this weekend, the Houston Astros hope to win their 51st game of the season. They are currently 50-72 with three more games against the Boston Red Sox in Fenway Park on tap. What's so special about 51 wins? That would match last year's win total for Houston.
The Astros saw their win total decrease from 56 to 55 to 51 from 2011-13, though they've made some real improvement this year and are poised to post their best record since going 76-86 in 2010. That doesn't sound like much -- they're still on pace to lose 95 games this year, after all -- but Houston has been historically bad these past three years. George Springer , Jose Altuve , Dallas Keuchel and Collin McHugh are all positive signs for this franchise, which will likely win its symbolic 51st game at some point this weekend.
Show Comments
Hide Comments