Aug. 25 MLB Weekday Watch List: Both wild-card races heat up
This week brings us two series with big implications for both the AL and NL wild-card races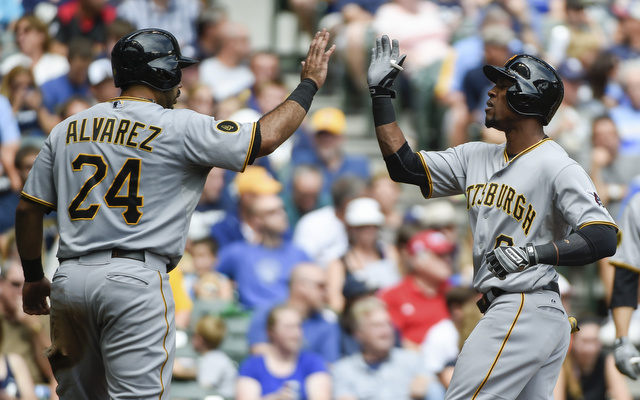 In five weeks, the 2014 regular season will be over. Probably. There could always be a Game 163 tiebreaker (or two) to determine a postseason spot, like the Tampa Bay Rays and Texas Rangers had to play last fall. Fifteen teams -- half the league -- are within four games of a postseason spot as of Monday morning.
Since it is Monday, it's time to look ahead to the coming week. Here are the most important storylines in MLB this week.
1. St. Louis Cardinals at Pittsburgh Pirates (three games)
The Pirates just took two of three from the Milwaukee Brewers in Milwaukee, but they have lost eight of their past 11 games overall. That leaves them five games back in the NL Central, and, more importantly, 1½ games back of the second wild-card spot.
The Cardinals, on the other hand, dropped two of three to the Philadelphia Phillies over the weekend but won seven of eight before that. They're only 1½ games back of the Brewers in the division with a nice three-game lead on a wild-card spot.
These two teams play three games this week, meaning the Pirates have a chance to climb back into the various postseason races while the Cardinals have the opportunity to bury a direct competitor. This series won't determine any races, but it will be a big boost for one club.
2. New York Yankees at Detroit Tigers (three games)
The race for the second AL wild-card spot has more or less devolved into a two-team race: the Seattle Mariners and the Tigers, who are separated by one game. The Yankees are the next-closest team at 3½ games back. No other club is within five games of the second wild-card.
If the Yankees are going to make a run for that second wild-card spot -- and let's be honest, this club has a knack for hanging around way longer than everyone expects -- these three games in Detroit are incredibly important. It's the only time they'll be able to control what they and either the Tigers or Mariners do on a given night for the rest of the season.
The Tigers managed to split a four-game series with the Minnesota Twins over the weekend despite allowing 42 runs. They have to use this series to keep the Yankees at bay and make sure the wild card remains a two-team race between them and the Mariners. This series will decide if that second wild-card race involves two teams or three come September.
3. Last-minute trades
As I'm sure you realize, trades can still go down even though the trade deadline was back on July 31. Teams just have to jump through some more hoops to make them happen. Here's a primer. Already this month we've seen the likes of Geovany Soto , Gordon Beckham , Josh Willingham, Kevin Correia , Jacob Turner, Roberto Hernandez and Matt Thornton change teams.
Aug. 31 is a hard deadline. MLB rules say a player must be with the organization -- not necessarily at the big-league level, just in the organization -- by 11:59 p.m. ET on Aug. 31 to be eligible for the postseason roster. There are no exceptions to this. Teams have until midnight Sunday to add any finishing touches to their roster. Expect a few more deals this week as teams like the Oakland Athletics (infielder?), Los Angeles Dodgers (starter?), Tigers (starter??) and Los Angeles Angels (starter???) look to build a team capable of playing deep into October.
Show Comments
Hide Comments