Awards Watch: National League MVP
It's time to take an early look at possible NL MVP candidates, with Andrew McCutchen and Yadier Molina as frontrunners.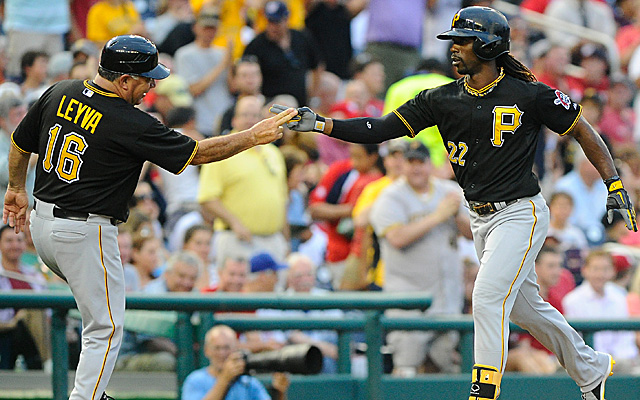 More Awards Watch: AL MVP | NL MVP | AL Cy Young | AL Cy Young | NL ROY | AL ROY | NL Manager | AL Manager
We're into August, meaning we've had enough time to start thinking arguing about the postseason awards. We'll run through each of the four major awards per week by league in this very space. The point isn't to give our personal picks at the time, but instead to estimate where the voting body (BBWAA) will go with each award.
So let's run through the National League MVP contenders, as of Aug. 6.
Andrew McCutchen , Pittsburgh Pirates : Cutch ranks in the top 10 in the NL in batting average, on-base percentage, OPS, OPS+, hits, runs, total bases, doubles, stolen bases, extra-base hits, times on base and ... we'll just stop there. He also ranks third in the NL in both baseball-reference.com (bWAR) and fangraphs.com (fWAR) WAR. Now let us take note of the team factor. While some of us don't believe it should heavily factor in on an individual award (seriously, are we suggesting that Mike Trout 's teammates suck because of him instead of the team losing in spite of how awesome he is?), there's something with the Pirates that will surely carry heavy weight with the voting body. Entering Tuesday, the Pirates boast the best record in the majors. Should that hold up after 20 straight losing seasons in addition to McCutchen being so good in so many different facets of the game, this thing will be a slam dunk. Rightfully so, too.
Yadier Molina , St. Louis Cardinals : The best defensive catcher in the game is also the heart and soul of a playoff-caliber team while hitting .330/.374/.479 with 30 doubles, eight homers and 54 RBI. The knee injury is a setback, but it doesn't sound serious at this point. He's a strong No. 2 at this point, with the scales tilted due to the Pirates factor and the injury being a concern.
Carlos Gomez , Milwaukee Brewers : A true five-tool superstar, Gomez does absolutely everything well. He's made several stellar plays in center field this season -- including a game-saving catch against the Cincinnati Reds , robbing Joey Votto of a would-be go-ahead home run to end the game. He leads the majors with nine triples while boasting 29 stolen bases in 34 attempts. He's hitting .291/.341/.528 and leads the NL in bWAR while ranking second in fWAR (which makes sense, as it factors in defense and baserunning). The problem? His team is in last place.
Carlos Gonzalez , Colorado Rockies : Cargo leads the NL in slugging percentage and OPS. He's hitting .302/.367/.591 with 26 homers, 70 RBI, 23 doubles, six triples and 21 steals. He's also recorded 11 outfield assists with his cannon for an arm. A finger injury has hampered his power of late and the Rockies seem to be falling out of contention, so those are two strikes against his chances moving forward.
Clayton Kershaw , Los Angeles Dodgers : It's an uphill battle for a pitcher, especially without a ridiculous win-loss record. Due to lack of run support and some blown saves during his starts, Kershaw is only 10-6. Still, the Dodgers have to have someone a consideration due to their absurd run to the top of the division and Kershaw is rather obviously the best pitcher on the planet. Heading into Tuesday's start against the Cardinals, he has a 1.87 ERA, 0.86 WHIP, 191 ERA+ and allows only 5.9 hits per nine innings. All of those are the best in the majors. For pitchers should we factor in hitting? If so, Kershaw has two doubles, a homer and four RBI in 63 plate appearances. He's also second to Gomez in bWAR.
Joey Votto, Reds: He leads the NL in walks, on-base percentage and OPS+. He's also in the top 10 in WAR, batting average, slugging percentage, runs, hits, total bases, doubles and home runs. Will the stigma on his low RBI total (52) from the three-hole harm his MVP chances? It very well might. Otherwise he's right there.
David Wright , New York Mets : He's similar to Gomez in several ways, being a great all-around player with an exceptional WAR (4th in NL in bWAR; 1st in fWAR) and playing on a sub-par team. Wright's team is better, but it's still probably not good enough to get him in the top of voting if a vote were held right now.
Paul Goldschmidt , Arizona Diamondbacks : When the Diamondbacks were comfortably in first place and Goldschmidt was taking a line of .313/.395/.557 with 23 doubles, 21 homers, 77 RBI and nine steals into the All-Star break, he was probably among the frontrunners. He still leads the NL in RBI, however, he's hit just .233 since the break while the Diamondbacks have -- with the obvious help of the Dodgers' crazy hot run -- seen a 4.5-game lead become a 5.5-game deficit. This has a way of burying MVP candidates, but there's still plenty of time to turn it around. Goldy's numbers on their own are worthy of consideration, after all, so it wouldn't be surprising to see him make a serious run here.
Justin Upton , Atlanta Braves : After a scorching hot start to the season, Upton faded rather quickly, going through a huge slump. He's starting to heat up again, though, as he's hitting .452 with four homers and 10 RBI in his last seven games (heading into Tuesday). The current line of .265/.356/.473 with 20 homers isn't nearly good enough, but he can get insanely hot. Factor in that the Braves are well-positioned to have the best record in the National League by season's end and he's likely to be their best candidate -- and you have your dark horse. Obviously Freddie Freeman could be a solid choice here as well, but we're going with Upton based upon the power upside.
Show Comments
Hide Comments