Back stiffness forces Matt Harrison from start
After missing most of 2013 and some of 2014 with back issues, Rangers starter Matt Harrison left his start Tuesday due to back stiffness.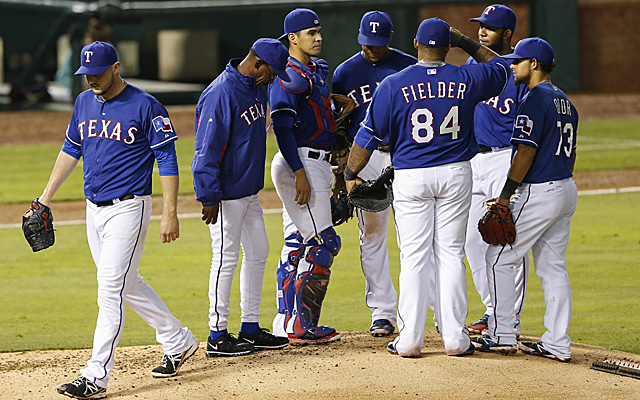 More MLB: Power Rankings | Expert Picks | Latest news & notes | Fantasy news
Rangers starting pitcher Matt Harrison was forced to leave his Tuesday after just 1 2/3 innings of work with an injury. That's always bad. What's worse here, though, is the injury itself. The Rangers have announced (via the broadcast) that he left due to back stiffness.
One might recall that Harrison only made two starts last season and got a late start this season after having surgery on a herniated disc in his lower back.
Caveats certainly apply at this point, such as that this issue could be completely unrelated and it could also be very minor. Maybe Harrison was removed as a precaution. All we know is that the Rangers said it was back stiffness and that he left early.
Harrison, 28, is 1-0 with a 4.15 ERA in 17 1/3 innings this season. He has more walks (12) than strikeouts (10) and was on the hook for the loss to the Astros when he left the game. He was an All-Star in 2012 when he was 18-11 with a 3.29 ERA, but his back have troubled him since.