Barry Bonds wants to work with Giants
Barry Bonds talked to the media at AT&T Park on Monday, said he'd talked to the Giants about a job and also discussed his Hall of Fame chances.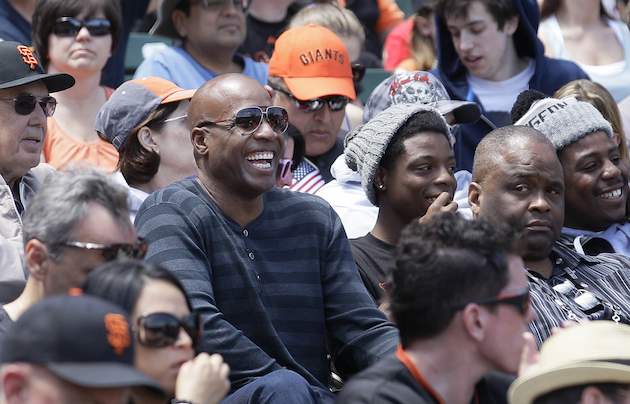 Barry Bonds says he knows how to "fix"
Giants
starter
Tim Lincecum
and would like the chance to tell him. Bonds appeared at AT&T Park before Monday's game beteen the Giants and Diamondbacks and spoke to reporters for nearly 35 minutes.
Bonds, who repeatedly referred to himself as a "felon convicted of obstruction of justice," said he has talked with team CEO Larry Baer about joining the team in a to-be-determined role.
"If Lincecum wants answers, I'll give them to him," Bonds said,
according to the Silicon Valley Mercury News
.
Bonds, 47, said he wanted to help the team as a roving instructor, helping players in both the majors and minors.
"My expertise is baseball," Bonds said (
via CSNBayArea.com
). "If you believe that I can contribute and help the organization, then fine. If you don't, fine. I'm just saying it's out there."
Bonds also talked about his legal battles.
"I'm a convicted felon of obstruction of justice and that's what I am," he said (
via CSNBayArea.com
). "I live with it.
"It will never go off your mind. You never forget these things. You move on, [but] I'll never forget it."
He also added -- "I was never convicted of steroids."
Note he said he was never convicted, not that he never used.
Bonds was also asked about his Hall of Fame chances.
"I don't try to predict the future or analyze how other people are thinking or how it's going to turn out… It would be very sad if it didn't happen. That's why I don't need to comment on it. There's really no need," he said (
via the San Francisco Chronicle
).
He continued: "I have no idea. That's up to the writers. I don't worry about that stuff. I'll be at home having a good time with my kids. Or hopefully here. Doing some stuff for other kids. That'll take care of itself. I don't need to worry about that stuff."

Show Comments
Hide Comments