Baseball Hall of Fame: Ken Griffey Jr. and Mike Piazza elected
Ken Griffey Jr. and Mike Piazza have both been elected to the National Baseball Hall of Fame.
The National Baseball Hall of Fame has two new members. Ken Griffey Jr. and Mike Piazza have both been voted into the Hall of Fame by the Baseball Writers Association of America, it was announced Wednesday evening.
Induction weekend will be held July 22-25 this summer, at the Hall of Fame in Cooperstown, New York. The induction ceremony itself will be held Sunday, July 24, at 1:30 p.m. ET.
Griffey was elected in his first year on the ballot. He received 99.32 percent of the vote, the highest total in history. Tom Seaver was the all-time leader at 98.84 percent. Nolan Ryan (98.79 percent), Cal Ripken Jr. (98.53 percent), and Ty Cobb (98.23 percent) round out the top five.

Piazza, meanwhile, appeared on 83.0 percent of the ballots. This was his fourth year on the ballot and his support increased with each passing year. Piazza appeared on 57.8 percent of the ballots in 2013, 62.2 percent in 2014, and 69.9 percent in 2015. Seventy-five percent is needed for induction.
Griffey, now 46, was the best and most exciting player in baseball for much of the 1990s. He spent the vast majority of his career with the Mariners and Reds, and, during his peak from 1991-98, Griffey hit .304/.386/.596 (157 OPS+) while averaging 39 home runs, 14 stolen bases, and 110 RBI per season.
During his 22-season career Griffey amassed 2,781 hits and 630 home runs. He is sixth on the all-time home run list, trailing only Barry Bonds (762), Hank Aaron (755), Babe Ruth (714), Alex Rodriguez (687), and Willie Mays (660). Griffey is a career .284/.370/.538 (136 OPS+) hitter who went 13 All-Star Games, including 11 consecutively from 1990-2000. He was also the 1997 AL MVP.
Piazza, now 47, is the greatest power-hitting catcher in baseball history. He retired as a career .308/.377/.545 (142 OPS+) hitter with 2,127 hits, 427 home runs, and 1,335 RBI. Piazza was a 12-time All-Star and ranks first among all catchers in home runs, slugging percentage, and OPS+. He played the majority of his 16-year career with the Dodgers and Mets.
Both Tim Raines and Jeff Bagwell appeared to be on track for induction this year based on the 213 public ballots collected by Ryan Thibodaux before the Hall of Fame announcement. Both players fell short of induction, however. Raines appeared on 69.8 percent of the ballots while Bagwell appeared on 71.6 percent.
A total of 440 Hall of Fame ballots were filed this year. The BBWAA eliminated legacy voters earlier this year, meaning members who have not actively covered baseball for 10 years. That reduced the voting body by 109 voters from 2015.
Below are the full voting results from the BBWAA website:
Ken Griffey Jr. - 99.3 percent
Mike Piazza - 83.0 percent

Jeff Bagwell - 71.6 percent
Tim Raines - 69.8 percent
Trevor Hoffman - 67.3 percent
Curt Schilling - 52.3 percent
Roger Clemens - 45.2 percent
Barry Bonds - 44.3 percent
Edgar Martinez - 43.4 percent
Mike Mussina - 43.0 percent
Alan Trammell - 40.9 percent
Lee Smith - 34.1 percent
Fred McGriff - 20.9 percent
Jeff Kent - 16.6 percent
Larry Walker - 15.5 percent
Mark McGwire - 12.3 percent
Gary Sheffield - 11.6 percent
Billy Wagner - 10.5 percent
Sammy Sosa - 7.0 percent

Jim Edmonds - 2.5 percent
Nomar Garciaparra - 1.8 percent
Mike Sweeney - 0.7 percent
David Eckstein - 0.5 percent
Jason Kendall - 0.5 percent
Garret Anderson - 0.2 percent
Brad Ausmus - 0.0 percent
Luis Castillo - 0.0 percent
Troy Glaus - 0.0 percent
Mark Grudzielanek - 0.0 percent
Mike Hampton - 0.0 percent
Mike Lowell - 0.0 percent
Randy Winn - 0.0 percent
Players need to receive 75 percent of the vote for induction and at least five percent of the vote to remain on the ballot another year, so 13 players fall off this year. Both Trammell and McGwire were in their final years of Hall of Fame eligibility, so they fall off the ballot as well.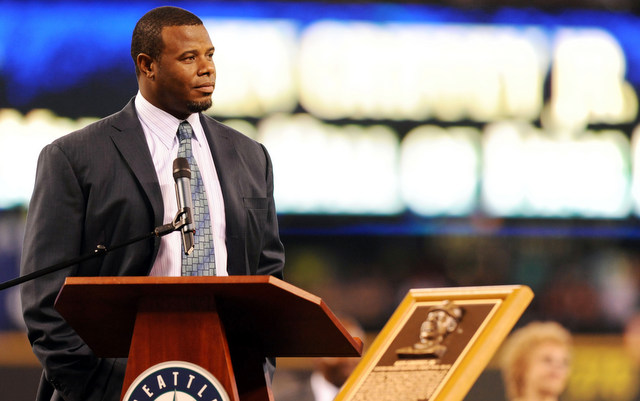 Show Comments
Hide Comments
Our Latest Stories
Ground-rule double or not? It's complicated, and so's challenging a play at the end of a g...

Rain cut things short in Pittsburgh on Thursday night, so nobody won

Here's a look at the postseason race standings with four days left in the regular season
A certain Yankee legend was on hand to honor Big Papi before his final appearance at Yankee...

The outfield grass will be looking good for David Ortiz's final regular season appearance in...

The Tigers and Indians were rained out on Thursday. Here's what that means for the AL wild...