Before taking big Cubs deal, Maddon made olive branch offer to Rays
Joe Maddon reached out Tampa bay with a firm offer to stay, but it is said to have been declined.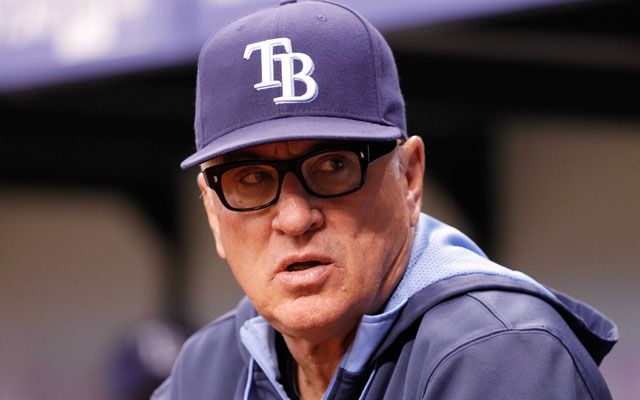 In a real effort to try to stay in Tampa Bay, Joe Maddon is said to have made an offer to the Rays to remain their manager before ultimately agreeing to be the Cubs manager for more money in the managerial mega-deal that's rocking Chicago.
Maddon, following what one person described as talks that turned "contentious" after his decision to opt out of his under-market Rays deal, tried to keep things together by making the Rays his own firm proposal. Maddon, ultimately known as a "get-along guy," was looking to extend an olive branch after nine fruitful years in Tampa Bay with his offer, which was turned down by the Rays, according to people familiar with the talks.
The Rays, said in a statement by Rays owner Stu Sternberg to have "diligently and aggressively" pursued Maddon, are believed to have offered via a multiyear extension, a significant raise by their standards at least, from his approximate $1.8-million salary Maddon was to make from them in 2015. But ultimately, Tampa Bay's offer is still thought to have been well below market value, or at least what the Cubs were willing to pay for what they viewed as an "elite" manager. Or what Maddon was willing to stay for.
The Rays are thought willing to have offered close to $3 million annually on the extension, but ultimately they were probably hurt by small-market revenue limitations. However, the Rays should get credit for hiring and keeping Maddon for nearly a decade.
Maddon never expressed anything but admiration for the Rays, but it's true that while he was working on an under-market contract, longtime GM Andrew Freidman was said long ago to be able to increase his salary to the point where it was at least the $3-million range, thanks to flirtations by at least the Angels and Astros, before he left for much bigger bucks as Dodgers president of baseball operations. Friedman's exodus is what triggered the opt-out clause in Maddon's three-year contract.
Maddon's old boss with the Angels, Mike Scioscia, is baseball's highest paid manager at an average $5 million a year on his record $50-million, 10-year deal. Maddon's new Cubs deal was announced on Monday to be a 5-year deal, though salary figures were not disclosed. Maddon's offer to the Rays was said to have been for less than what the Cubs ultimately paid him.
The Rays have apparently raised the possibility there was tampering in talks with some reporters, but while there's no question tampering happens on occasion in baseball, it would seem to be impossible to prove – especially since it would seem to be fairly apparent Maddon could make significantly more elsewhere, whether that be the Cubs or somewhere else. Maddon also by his offer was willing to take less to stay.
As far as the tampering intimation, Maddon's agent Alan Nero said Sunday in an interview on SiriusXM/MLB Network Radio that the initial contact by the Cubs was an email asking to prove there was an opt out, after the fact. Nero also said Cubs president Theo Epstein "made certain" there was approval from MLB to pursue Maddon, so there was no tampering.
"It's silly to suggest that, if they want to pursue that, that's fine. It's very unfortunate,'' Nero said. "In my world, where someone who is part of your family has an opportunity to improve themselves, you give them your blessing and you allow them to move on and know that they are always welcome home.

"This accusation of tampering, it's really sad and it's a bit insulting,'' Nero added.

Nero also disputed Tampa Bay's assertion that their final offer before Maddon opted out of his contract would have made him one of baseball's "top-five" managers by pay. The Rays for them are believed to have made a significant offer, but of course there are different ways to figure whose contract is highest, including top dollars and annual salary. In any case, it far was less than he was able to obtain from the Cubs.
"In their opinion they tried to negotiate a settlement, but it was so far from reality it just didn't make sense,'' Nero said to Jim Duquette and Jim Bowden on the radio show.
"Joe would have stayed had they stepped up but we were so far apart,'' Nero also said on the show.
Show Comments
Hide Comments