Best Winter Meetings exchange: Kirk Gibson vs. LA media person
Kirk Gibson and a member of the Los Angeles media had a funny, extended exchange during the Winter Meetings.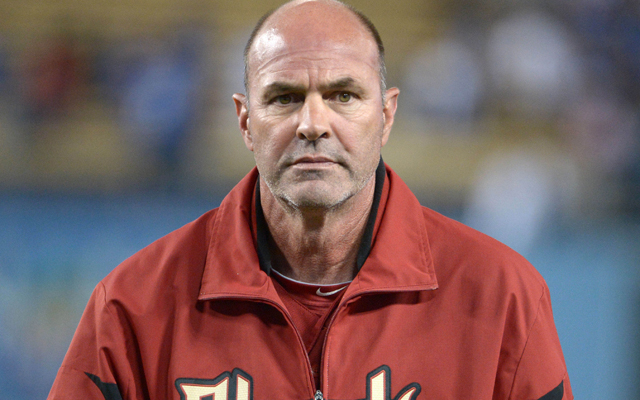 <
MORE: FA tracker: position players | FA tracker: pitchers | Winter Meetings updates
ORLANDO - During Major League Baseball's annual Winter Meetings, there are sessions with (almost) every MLB manager during the course of Monday, Tuesday and Wednesday. There are two tables across the room from each other, each with a manager conducting a bit of a mini press conference.
During Monday's session with Diamondbacks manager Kirk Gibson, there was quite the back-and-forth with a member of the Los Angeles media.
For a reference point, remember Gibson's comments last month about the Dodgers organization. And ... go:
Q: What do you have against A.J. Ellis?
Gibson: Nothing. He's a nice player.
Q: You know what I'm talking about, when you guys came back ...
Gibson: I think if you look at the context, did you look at the whole context of those comments?
Q: Yes.
Gibson: Tell me what they were about.
Q: What you stand for as an organization?
Gibson: Where did that comment come from, where did it start? I said I was not interested in going to the Detroit Tigers and I told them why. I enjoyed the people I worked for, the organization, the city. My players love them. And I was talking about when I came in here how the players did not understand how the fans and MLB were more important than themselves. And I was proud that our players, Paul Goldschmidt and Patrick Corbin -- two guys that had breakout years -- went over there.
Q: It sounded like you ...
Gibson: Maybe it sounded that way, but ...
Q: So that's not the case?
Gibson: Did you hear what I just said? Are you going to write it that way?
Q: I'll write what you say.
Gibson: Get the whole thing in there.
And more later:
Q: Do you feel that the Dodgers jumped over the line when they jumped in the pool?
Gibson: I think I've commented on that.
Q: The effect that last year, as you're moving forward ...
Gibson: Are you from Los Angeles?
Q: Yes.
Gibson: I'm surprised. Trying to get some juicy articles for this week?
Q: Yes.
Gibson: He admits it.
Q: My general manager gave me nothing today.
Gibson: I'm sorry. You can make something up. I've got no problem with that.
And even more later, at the end of an answer, Gibson said this:
"Sometimes you're trying to so hard you become a scotoma. Do you know what a scotoma is, you LA guy?"
The response of LA guy was classic, too: "We have a really bad education system."
All the snark!
Outstanding theater. We have two more days of manager sessions, but I doubt there anything more juicy than that back and forth.
NOTE: It was Dylan Hernandez of the Los Angeles Times. Here's the story he wrote from the session.