Big Apple overreaction: Dickey-Cain flareup much ado about almost nothing
History suggests All-Star managers are well within their rights to select any deserving pitcher to start the game, and Matt Cain deserves the honor, too.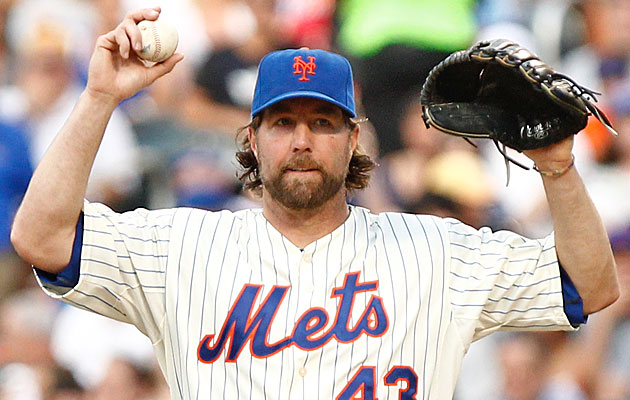 R.A. Dickey is caught up in a controversy that has made New York look small-time. (US Presswire)
KANSAS CITY -- Some Mets fans, and even some Mets people, are going overboard on this contrived and silly R.A. Dickey-Matt Cain All-Star starting controversy. Way overboard.
Enough already.
Contrary to the assertion of many Mets-related folks, it isn't a birthright for the pitcher that's having the best statistical season to date to start the All-Star Game. Oftentimes, that isn't the case at all.
Check out the American League this very year, where Justin Verlander got the start over Jered Weaver and Chris Sale, two pitchers having better statistical years than Verlander. Sale appears to be limited to one inning, making him a tough choice, but there's no reason AL manager Ron Washington couldn't have picked Weaver.
Yet, not one peep was heard from Los Angeles. Good for L.A. for understanding how this works. Or at least for not getting riled up over an unworthy cause.
Sometimes, the All-Star manager takes into account a pitcher's history, his schedule and his background. Rarely is it questioned.
Yet, in New York, the alleged sophisticated city, folks can't stop talking about how Dickey got "hosed." Yes, that is one word being used in the New York media.
It's a little much how the New York media has lined up in favor of Dickey. They all have to know there's no history to suggest that the guy with the best stats, or even best first half, automatically gets the start. The statistical disparity between Weaver, who is 10-1 and leads MLB with a 1.96 ERA and 0.90 WHIP, and Verlander is actually a bit greater than the disparity between Dickey and Cain.
New York is looking pretty small over this. And small-town.
It's true Dickey's season (12-1, 2.40) is worthy of the start. But really, it's no surprise at all that NL manager Tony La Russa went with the more experienced, more accomplished Cain to throw to his own catcher, Buster Posey.
The knuckleball shouldn't disqualify Dickey from the start, but its unpredictability may give a manager pause. We aren't privy to any conversations La Russa may have had to lead him to believe NL backup catcher Carlos Ruiz is more comfortable than Posey with the knuckleball. They may or may not have occurred, but no matter.
Cain is a fine choice. He is 9-3 with a 2.62 ERA. He threw a perfect game. He has thrived on a big stage, having allowed zero earned runs in two starts in the 2010 World Series.
"We wanted to reward Matt Cain for a career of excellence that's getting better and better," La Russa explained.
In any other year, that NL manager's quote would have been considered mundane, but in this one, it's being picked apart ad infinitum, to the point where it's considered a slap at Dickey. In any other year, Cain would be applauded for deserving the honor after a superb, history-making season.
Dickey himself fed the outcry, telling the media La Russa didn't reach out to him. "I haven't talked to Tony at all, surprisingly," he said.
It's understandable why Dickey might have gotten caught up in the controversy, which has grown well beyond its worthiness.
All of New York is crying foul, it seems, for a cause that rarely -- if ever -- inspires a peep. Where is the outrage over Weaver?
Now, if New York wants to complain about Pablo Sandoval, who was reprimanded by his own organization for slacking while on injury rehab, getting the start at third base over MVP candidate David Wright, well then, they have a case there.
Show Comments
Hide Comments